Our first post-NFL edition of Monday Morning Placekicker comes complete with a little breaking news. Just as I started to write this post, Twitter blew up with the news that EWU star quarterback Vernon Adams, Jr., has
decided to take his talents to Eugene
for one season playing with the Oregon Ducks: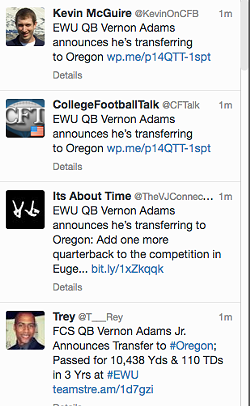 Adams has one year of eligibility left after graduating from EWU this spring, and he'll be playing in a perennial Top 5 program that consistently competes for national championships. He did the same at Eastern, but playing against Pac-12 competition will give him a shot at the NFL he might not have gotten had he stayed in Cheney. The Eagles did fine while Adams was hurt for a few games this past season, but losing a dynamic QB like him is definitely a hit for the Eagles. It should be fun to see Adams try to
prove the naysayers wrong
.
IN BETTER EAGLES NEWS
The men's hoops team continues to chase the Big Sky regular season title. The Eags swept a Montana road trip — no easy task, and one made more difficult when an injury kept leading scorer Tyler Harvey at home in Cheney. No worries, as the cast of supporting players scored enough points — and
actually played "D"!
— to beat the Griz in Missoula Thursday, then the Bobcats in Bozeman Saturday. Next up is a home showdown against league-leading Sacramento St.
COUGS PUMMELED
The pregame hoopla was all about WSU coach Ernie Kent returning to the campus where he made his name, taking the Oregon Ducks to two Elite Eights during his tenure. Once tipoff came, the hoopla melted away into an ass-kicking, as the
Cougs couldn't hang with the Ducks
, losing 95-72. It wasn't even that close.
ZAGS DO WHAT THE ZAGS DO
Perhaps you've seen a Zags game this year? Then you know how Gonzaga's game against San Francisco went on Saturday. It was close until halftime, and actually stayed close in the second half longer than most of these games do, and then the Zags pulled away for relatively easy win. Kyle
Wiltjer dropped 29
and the team won by 11. This week, the No. 2 Zags play Loyola Marymount on Thursday and pesky Pepperdine on Saturday.