Eastern Washington University has paired with the Washington State University Thomas S. Foley Institute for Public Policy and Public Service to bring James Anaya, professor at the University of Arizona, to Spokane tonight. Bringing with him a colorful and intriguing past, Anaya will enlighten EWU Spokane with
his lecture on the rights of indigenous peoples
.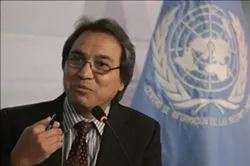 Anaya's career has spanned many different titles, but it has always been driven by a great focus on the adversity and injustice indigenous peoples continuously face all around the globe. The largest and arguably most incredible period of his career was spent as a lawyer. After graduating from the University of New Mexico and Harvard Law School, Anaya set up camp to practice law in New Mexico. There, he fought for the rights of Native Americans and a variety of other minorities living with injustice.
Throughout his law career, Anaya was a part of — and often a leader of — a number of landmark cases regarding the rights of indigenous people. He was the lead counsel in a case called Awas Tingni v. Nicaragua, in which it was determined that the Nicaraguan government had infringed on the rights of the indigenous Mayagna people by taking over traditional land and resources that should have been guaranteed to them. This was an enormous leap for indigenous rights, and was actually the first time that the Inter-American court for Human Rights had ever come to a decision on land rights that favored indigenous people. He led and won a similar case for the land rights of the indigenous Mayan people in Belize. On top of those and a variety of other cases, Anaya also helped to draft the UN Declaration on Rights of Indigenous People, which has been a milestone in government recognition of these specific types of injustices.
A magazine published by the American Bar Association called
Barrister
recognized his talents early on, featuring him as one of "20 young lawyers who make a difference." Anaya was even appointed the United Nations Special Rapporteur on the Rights of Indigenous Peoples for five years starting in 2008. He has continued to spread his skill, dedication, and influence around the world, writing a handful of books on the topic and giving lectures in his classroom at the U of A, at his alma mater Harvard, and everywhere in between.
His lecture, titled "The Rights of Indigenous Peoples in the Contemporary World: The Powers of Ideas and the Challenges of Implementation," will recount some of Anaya's experiences in the field of law, as well as look at how the rights of indigenous people have changed and improved since a time much too recently when there were hardly any rights at all.
The event will take place at 7 pm in Room 122 of the Phase 1 Building at
EWU Spokane's campus
.