Summer officially starts this weekend, but the weather and the arrival of the Inlander
Summer Guide
certainly mean that most of us are already celebrating the warm weather. You can join the fun with some of the featured
events
and
Staff Picks
on Inlander.com.
If you need some help, here are some great events happening the week of Monday, June 15-Sunday, June 21:
Monday, June 15
WORDS | It's
Spokane Poetry Slam
night at The Bartlett, where you can compete for $50 against some of the area's best spoken-word poets.
DANCE | The
Silver Spurs Youth Folk Dancers
have a repertoire that covers more than 40 cultures' modes of dance. That's some serious homework to lend to serious footwork. It starts at 7 pm at the Bing.
Tuesday, June 16
OPEN MIC | Jones Radiator hosts the
Open Mic of Open-ness
, welcoming all styles and skill sets to their friendly little stage on Sprague.
Wednesday, June 17
SPORTS & OUTDOORS | If you feel the need for speed on your bike, hit the
Wednesday Night Mountain Bike Races
at Riverside State Park and compete against some other speed demons.
FILM | You might be one of the folks who helped make Jurassic World the biggest-selling opening-weekend film ever. Now you can go watch the original
Jurassic Park in lovely Riverfront Park
during its Outdoor Movies series.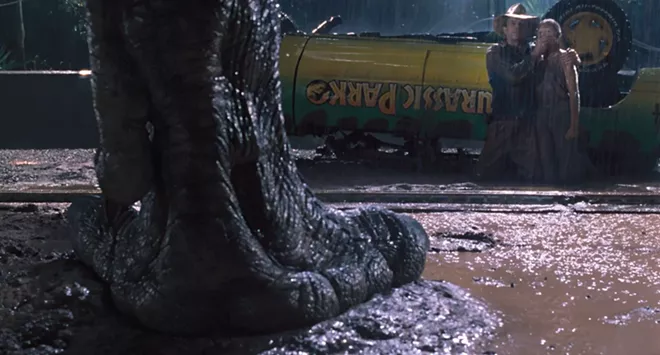 Thursday, June 18
SPORTS & OUTDOORS | The Manito and Comstock neighborhoods close down for the benefit of cyclists, skaters and basically anything on wheels but not motorized for
Summer Parkways
, starting at 6 pm.
LIVE BANDS | The
Doobie Brothers
will turn NorthernQuest into their own China Grove.
SPORTS & OUTDOORS | It's
opening night for the Spokane Indians
baseball club, so you get a ball game AND some fireworks. Sweet!
Friday, June 19
BENEFIT | Been a while since Bloomsday, but there are plenty of opportunities to keep running, like the
Summer Solstice Fun Run
at Riverfront Park.
SPORTS & OUTDOORS | Take a drive north and enjoy some small-town fun at the
Colville Panorama Rodeo
.
FOOD & DRINK | Enjoy sipping some delicious wine? Help the
Pend d'Oreille Winery
celebrate its 20th anniversary Friday night and Saturday.
Saturday, June 20
COMMUNITY |
Bazaar
takes over Post Street downtown in its second year, offering all manner of cool arts and crafts for less than $100, plus music, food and more. It's free to attend, and runs from 11 am to 10 pm.
ETC | Want to work in the weed biz? Hit the
Spokane Cannabis Job Fair
on Saturday at 10 am at the Spokane Convention Center. Wait, 10 am?
COMMUNITY | Celebrate
Juneteenth
with the Inland Northwest's African-American community and others honoring the anniversary of emancipation.
Sunday, June 21
HEALTH & WELLNESS | A free night of yoga to ring in the first day of summer? Sounds relaxing. Hit
Yoga in the Park
.