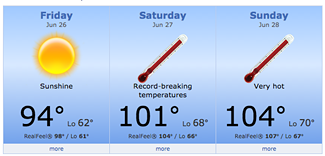 So what's going through your mind when you look at the weekend's
weather forecast
? Terrified that we're all gonna die? Speculative that the mercury could even soar to such levels this far north in the hemisphere? Angry at your local TV weather person?
Whatever you're thinking, we can all agree that this heat wave picked one hell of a weekend to fry the Inland Northwest, what with Hoopfest and Ironman taking place.
And Ironman organizers are taking the prospect of athletes running or biking in temperatures that are set to peak at 104 F seriously. Thus, they announced today that the start time of the swim/bike/run contest has been
pushed up to 5:30 am
. The new start times are as follows:
5:30 a.m. - Pro Men
5:35 a.m. - Pro Women
5:45 a.m. - Rolling Age-Group Start
8:20 a.m. - Swim cut-off
12:30 p.m. - First Bike cut-off (Any rider who has not made the start of the second lap by 12:30 p.m. will not be allowed to continue).
3:15 p.m. - Second bike cut-off (Highway 95 turn-around).
4:30 p.m. - Official bike cut-off
8:00 p.m. - Run cut-off at halfway point of run (Lakeside turn-around)
9:30 p.m. - Second run cut-off (Bennett Bay Hill)
11:00 p.m. - Race officially ends
Here's a statement from Ironman organizers:
As our primary concern is the safety and security of our participants, spectators, volunteers, first responders and staff, we have been and will continue to be in constant communication with the National Weather Center and medical personnel to make certain we have the most accurate and up-to-date information. Plans have already been made to increase medical personnel support on the course as well as to increase our on course misting stations, fluids, sponges and ice orders. We will continue to work on additional contingency plans if adverse weather conditions require further modifications to the event. If any additional changes become necessary, they will be communicated to the athletes as early as possible.