What makes
Cheap Trick
truly "classic" among the still-touring classic-rock bands is their ability to make a show seem utterly fresh, even as the band members approach 70 and their most popular hits near 40.
Take their show Thursday at the Spokane County Interstate Fair as a prime example. It was a loud, boisterous explosion of power-pop and hard rock songs that blended the obvious, monster hits from
Cheap Trick
's catalog with some deep cuts, surprising covers and unreleased new songs. Put it all together, and it was as satisfying a rock show as any you're likely to see this year.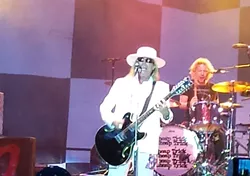 For the hardcore Cheap Trick fans standing from start to end and crowding the front of the stage, the show had everything they could desire. Lead singer/guitarist Robin Zander strutted around in an all-white suit and fedora (complete with feather) over a white T-shirt with an important message: "Music has value." His voice was in stellar form, whether delivering poppy tunes like "If You Want My Love" or "The Flame," or rockers like "California Man" or "Daddy Should Have Stayed in High School." Given the range of rock styles Cheap Trick tackles in its tunes, they're lucky his voice remains as strong as it is, even if some of the high notes were a stretch after more than four decades on the road.
Guitarist Rick Nielsen threw guitar picks into the crowd by the dozen, had a checkerboard-pattern pedestal to step up on for select solos, and wore a T-shirt with a picture of himself on it, because why not? He delivered most of the between-song banter for the night, cracking jokes about songs like "Borderline" — "It never got played on the radio. It never got played in anyone's homes, either" — doing his patented spoken-word interlude during "Dream Police" and breaking out his five-neck guitar during the show-closing "Surrender." He even spent some time chatting up the sign-language interpreters working on the side of the stage in the middle of some songs.
Bassist Tom Petersson was more low-key than his long-time partners, lurking in back and occasionally hitting the front of the stage to harmonize with Zander. He did shine, though, during a bass solo that segued into an utterly unexpected and total awesome version of Velvet Underground's "Waiting for the Man" that included a mid-song side trip into VU's "Heroin" with Petersson on lead vocals.
With Nielsen's son Daxx ably sitting in on drums in place of long-timer Bun E. Carlos, the band played with an energy that belied their years, and did far more than simply recreate their biggest hits for a fair audience. Songs like "Come On, Come On," "On Top of the World," "Need Your Love" and the new, unreleased "Bang Zoom Crazy Hello" all added some nice flavors to a set peppered with the most popular songs from the Cheap Trick canon, but those were there, too in "Ain't That A Shame," "I Want You To Want Me" and "Surrender."
At show's end 19 songs and a bit more than 90 minutes after its start, Zander bowed to the audience and said Cheap Trick "will see you down the road." Given the energy and excitement the band still brings to a stage more than 40 years after its formation, there's no reason to think the road trip will end any time soon.
Here is the complete setlist from Thursday's show:
Hello There
Come On Come On
Big Eyes
Lookout
California Man
If You Want My Love
On Top of the World
Borderline
Ain't That a Shame
Need Your Love
Daddy Should Have Stayed in High School
In Crowd
Waitin' for the Man
The Flame
I Want You to Want Me
Dream Police
Bang Zoom Crazy Hello
Surrender
Goodnight
Here's a little taste of "Ain't That A Shame" from the show: