On Inlander.com:

Spokane artist,
Ben Joyce
found a new fan in
hip-hop star
The Game
.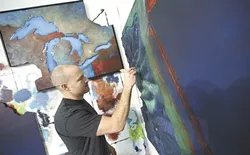 And despite what an Idaho District judge might have you believe, the Founding Fathers did not dream of an unbiased press,
Quite the opposite actually
.
More school shootings:
In case you missed it last week, two universities reported fatal shootings eight days after a student opened fire on classmates at Umpqua Community College in Oregon.
Last Friday, a
Texas Southern University
freshman was shot and another person was wounded. Earlier that morning, a physical confrontation outside a dorm on
Northern Arizona University's
campus ended in the death of one student with three others injured. The two incidents were not "active-shooter episodes," like the shooting in Oregon, the
New York Times
reports. Rather, they stemmed from disputes turned violent.
The
University of Texas
has since planned a protest to recent state legislation that allows concealed carry on university campuses. They're calling it
#CocksNotGlocks
, and some people are
not happy about it
.
The Death of Columbus Day:
John Oliver (see video below) asks why the federal holiday celebrating a conquistador's discovery of North America (like they weren't going to find that anyway) is still a thing, considering it resulted in death and slavery for thousands of Native Americans.
This year,
Portland, Ore
. and Albuquerque have denounced the holiday (which is today). Seattle and Minneapolis did the same year — replacing it with
Indigenous Peoples' Day
— and Berkeley, Calif. did it before it was cool back in 1992. Here are
some suggestions
for other Italians we could celebrate instead.