It is that inevitable time of year when the air gets cooler, the ground gets wetter, the sun sets sooner and golfers all around Spokane hang up the spikes for another winter. However, fall golf isn't always so bad, offering lower rates, beautifully colored trees and three and a half hour rounds.

In our Spokane Fall Golf Review we have rated each public golf course in the city of Spokane for fall playing conditions, and included a list of fall golfing tips as well. So before you throw your clubs in a corner behind the inflatable swimming pool, throw on a sweater and some rain paints for a couple more glorious rounds.
Esmeralda Golf Course 2 stars (Spokane Parks and Rec)
One of the City of Spokane courses, Esmeralda is a tame, short track enjoyable for golfers of all levels. A par 70 stretching to just over 6,300 yards from the tips, this is a great course for long-hitters, as there is not much trouble off the tee. The signature hole comes at the 159-yard par 3 12th which drops way down the hill. The greens here are solid, but if you are looking for especially pure surfaces you may want to play somewhere else.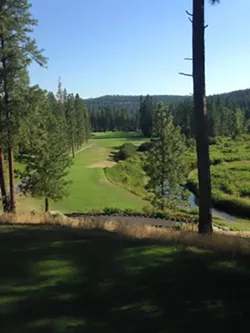 The Creek at Qualchan 3 stars (Spokane Parks and Rec)
This unique, well-manicured course starts off with a bang, offering a tee shot from the edge of a cliff down to the green, 359 yards away. The Creek at Qualchan is a solid challenge, measuring almost 6,600 yards from the tips and playing at a par of 72. Out of bounds comes into play on many holes, and there are several water features throughout the course. Cut brilliantly into the surrounding cliffs and highlighted by superb greens, Qualchan is an excellent challenge for the more experienced golfer.
Hangman Valley Golf Course 4 stars
Undoubtedly the most difficult public course in Spokane, Hangman Valley is the diamond in the rough of Spokane golf, measuring 6,865 yards from the back tees for a par of 72. Relatively open off the tee, this course challenges golfers with length, elevation change and difficult green complexes. The highlight of Hangman Valley is the epic fifth hole, a 629-yard par 5 with a gradual downhill tee shot. Drives landing on the down-slope of this fairway won't stop any time soon, making it possible for even your grandfather to hit a 300-yarder.
Downriver Golf Course 1.5 stars (Spokane Parks and Rec)
Marked by generous fairways and short par 5s, Downriver offers an enjoyable round for the casual golfer. This 6,168-yard par 71 can be had by more experienced golfers and enjoyed by beginners. As far as City of Spokane courses go, this is the least exciting track, but still offers solid greens and a nice atmosphere. The low rating for this course stems mostly from its lackluster layout, but for golfers still developing their games, this is one of the best bets in Spokane.
Indian Canyon Golf Course 3.5 stars (Spokane Parks and Rec)
Recognized in the past by Golf Digest as a Top 100 Public Course in America, Indian Canyon has been a staple in Spokane golf for 80 years. This par 71 is not particularly long, measuring 6,255 yards from the tips, but narrow, tree-lined fairways make Indian Canyon a great test of golf. If driving the ball far and straight is your forte, Indian Canyon will satiate your 300-yard needs with numerous downhill tee shots and two drivable par 4s. Crowning Spokane golf since 1935, Indian Canyon is a must play for any golfer in the Inland Northwest.
Wandermere Golf Course 2 stars
Located just north of Whitworth University, Wandermere Golf Course is a fun, quirky little par 70 measuring just over 6,000 yards from the blue tees. Frequented by both college students and members of the retired communities around Wandermere, this course can satisfy golfers of all skill levels. Although an easy course overall, watch out for the wall of trees protecting the fairway on the strange par 4 16th hole. The most affordable and relaxing of all Spokane golf courses, Wandermere is a great option for a casual round with friends.
Fall Price Specials:
- 4 Pack: 9 holes at each Parks & Rec course, $69
- Sunset Rate: Indian Canyon and Downriver only, $13 after 4:00 (or 2 hours prior to sunset)
- Wandermere: $15 after 2:00 Friday through Sunday, $12 all day Tuesday
- Best Greens: Indian Canyon, The Creek at Qualchan
- Best Values: Wandermere, Indian Canyon
- Easiest Courses: Wandermere, Esmeralda
- Toughest Courses: Indian Canyon, Hangman Valley
- Best Practice Area: The Creek at Qualchan
- Most Relaxing Atmosphere: Hangman Valley, Wandermere

Fall Golf Pro Tips

- Always carry multiple golf gloves in your bag in case one gets wet
- Umbrellas are nice in heavy rain, but can be a distraction at times
- Take advantage of winter rules; lift, clean and place your ball within six inches of where it lies
- Put the rain cover on your golf bag regardless of whether it is raining or not; it's bad juju for the weather when you take it off
- Take one extra club on every shot, the ball doesn't travel as far as it did in the summer

So now, the next time you are sitting on the couch and watching another episode of How I Met Your Mother on a beautiful, crisp early-November day, you've got no excuses. Slap on some slacks, pull on a sweater, fill up a thermos of coffee (doesn't necessarily have to be coffee...) and get outside for some beautiful fall golf in Spokane.