From Inlander.com:
Spokane did something rarely seen in these parts Tuesday night:
re-elected a mayor
.
David Condon breezed to another four-year term
in office on the strength of a large money advantage and voters' satisfaction that he's done enough to warrant four more years. Challenger Shar Lichty had a relatively strong showing after a pretty quiet campaign, garnering 37 percent of the vote to Condon's 63.
Condon won't have that strong a hand, though, even as mayor in a "strong-mayor" system in Spokane, as the
Spokane City Council swung just a bit further to the left
Tuesday night as
Council President Ben Stuckart easily won re-election
against John Ahern, then watched his liberal-leaning allies
Karen Stratton and Lori Kinnear beat their Condon-supported opponents
in somewhat close races Tuesday.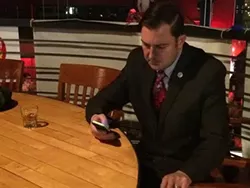 Envision Spokane's so-called "
Worker Bill of Rights
," which would have significantly raised the wages of Spokane workers and curtailed corporate rights,
lost big
after opponents had spent months arguing it would cripple the local economy.
Outside the city of Spokane,
statewide initiatives and council races
had tighter results than many of the Spokane city races. Washington voters took a
stand against the ivory trad
e, and also
passed a Tim Eyman-led anti-tax measure
that is more than likely unconstitutional. In Coeur d'Alene council races, Ron Edinger held on to his seat, while Dan English snagged one from an incumbent. A couple of tight races in Spokane Valley for city council were too close to call, with Ben Wick and Arne Woodard holding tight leads overnight.
In the
Spokane School Board races
, incumbent Rocky Treppiedi had a narrow lead against upstart challenger Jerrall Haynes, while Paul Schneider had a solid victory over Patricia Kienholz.
And, finally, the voters of Spokane County decided that
three county commissioners is enough
for the time being, striking down an effort to expand the commission to five.
Elsewhere in the news:
While all that election excitement was happening,
Spokane's Police Ombudsman Commission went ahead and offered the job to Raheel Humayun
, who was originally the group's second choice for the gig. As he is Canadian, his ability to take the job depends on his ability to
get a work visa quickly
. (Spokesman-Review)
In a
significant setback for gay-rights advocates
, a closely watched election in Houston, Texas, resulted in voters overturning an anti-bias ordinance that had pitted the city's lesbian mayor and gay-rights supporters stretching from the White House to Hollywood against social conservatives who argued the ordinance would encourage sex crimes. As the
New York Times
put it, "Opponents said the measure would allow men claiming to be women to enter women's bathrooms and inflict harm, and that simple message — "No Men in Women's Bathrooms" — was plastered on signs and emphasized in television and radio ads, turning the debate from one about equal rights to one about protecting women and girls from sexual predators." That campaign worked.
Ohio voted against legalizing pot
,
Kentucky elected a "political outsider"
and wealthy businessman supported by the Tea Party as its new governor, and
Seattle passed its "Honest Elections" initiative
, an effort to reduce the influence of money in politics. (CNN)