Spokane County Prop 1
Preliminary results:
Yes: 45 percent (36,015)
No: 54 percent (42,453)
When County Commissioner Shelly O'Quinn began gauging public reaction over the idea of adding two more county commissioners through a ballot proposition earlier this spring, she found supporters on all sides of the political spectrum. But once more details came out regarding the proposal, the question grew more partisan.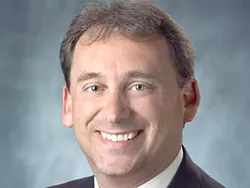 Local Democrats who had supported the idea of moving to five commissioners opposed the proposition, feeling that the proposal would blow their shot of moving to a system that elected commissioners by district. If the county elected commissioners by district, Democrats would have a better shot to elect at least one Democrat to the board.
Yet other than the fight between the county commissioners, where the argument occasionally got nasty, active campaigning was essentially non-existent on both sides of the measure.
At least for the County Prop. 1.
Numerous signs in the Spokane area proclaimed "Protect Spokane Jobs. Vote No Prop. 1." The signs were against the Worker Bill of Rights, Prop. 1 in the city. But the signs didn't specify which Prop. 1, giving the illusion that a groundswell of businesses opposed adding two commissioners.
"That's one of those bigger discussions. What can we do to minimize voter confusion? One of the thing's I'm going to advocate for, if we have a county ballot issue, maybe we call those 'Measures'" instead of "propositions," Spokane County Commissioner Todd Mielke says.

Mielke wasn't necessarily surprised the proposition lost. "Typically this region tends to lean toward lean toward smaller government rather than larger government," Mielke says.

The question, now, is whether the proposition's loss will kill future five-commissioner proposals. And if so, for how long?
---
Spokane School Board

Preliminary results

Position No. 3
Rocky Treppiedi: 50 percent (15,448)
Jerrall
J. Haynes: 49 percent (15,178)
Position No. 4
Patricia Kienholz: 45 percent (13,649)
Paul Schneider: 53 percent (16,290)
School board elections can sometimes be a bit
snoozeworthy
, wrapped in educational jargon or empty "the children are our future" platitudes.
But this year, Spokane Public Schools had something
making the race
a bit more interesting: A suddenly
powerful, more active education union
. The Spokane Education Association supported a one-day walkout to protest the legislature in the spring, and in the fall, threatened a strike in district negotiations.
Veteran school board member Rocky Treppiedi said the public does not support such a strategy:
"The union leadership believes that [strikes] are a strategy, believes that it's a good thing, that it's an appropriate thing to do. The public doesn't," Treppiedi said in a school board meeting last weeks. "They're not in favor of strikes. They're not in favor of disrupting the school year. They're not in favor of disrupting their family life."

But if voters wanted to punish the union, they didn't vote like it. They clearly picked the union-endorsed Central Valley teacher Paul Schneider over non-profit leader Patricia Kienholz.

As for Rocky Treppiedi himself, a school board member since 1996? The preliminary results have him hanging on by a thread, only 270 votes ahead of Jerrall Haynes, a union-endorsed aircraft maintenance craftsman who hasn't finished college.

It's worth noting that, in off-year elections, the low voter turnout is actually very good for school board candidates supported by groups like teacher unions.

As this article at FiveThirtyEight explains: "When school boards and other municipal offices are up for election at odd times, few run-of-the-mill voters show up at the polls, but voters with a particular interest in these elections — like city workers themselves — show up in full force."

(Of course, there may be another reason voters are skeptical of Treppiedi, that has nothing to do with his role on the school board.)


---
Spokane Valley City Council
Preliminary results

Position No. 3
Tom Towey: 47 percent (5,534)
Arne Woodard: 52 percent (6,018)

Position No. 6
Ben Wick: 50 percent (5,852)
Sam Wood: 49 percent (5,706)


There's a handy mnemonic to remember who's in which camp in the Spokane Valley council election: Are they old men with white beards?

Deputy Mayor Arne Woodard and Sam Wood both have white beards, and share a similar libertarian perspective. They faced off against beardless former Valley Mayor Tom Towey and beardless incumbent Ben Wick.

Beard or no beard, the two races remained relatively tight when the preliminary results came in, with Wick and Wood neck and neck, and Towey narrowly lagging behind Woodard by a little more than 500 votes.

---
Washington State Initiatives

Preliminary results
Initiative 1401
Bans on animal trafficking

Yes: 70 percent (statewide, 624,180)
No: 29 percent (255,428)
Initiative 1366
Limits on taxes
Yes: 53 percent (statewide, 471,700)
No: 46 percent (403,269)
• The hell with the state Supreme Court, Tim Eyman must have thought while creating his most recent statewide initiative. Yet another attempt by the conservative political activist to require a two-thirds majority in the state legislature to raise taxes was winning with 53 percent of the vote. Washington voters approved similar initiatives in 1993 and most recently in 2012. But in 2013, the state Supreme Court declared a two-thirds majority unconstitutional. Despite the precedent, and despite Eyman being under investigation for
public disclosure violations
, his initiative is still passing. Washington may be a liberal state, but it still, clearly, doesn't like taxes.
• Too far, or not far enough? That was the question for voters on Initiative 1401, which passed with 71 percent of the vote. The newly passed measure will outlaw the sale or trade of items made from certain endangered or nearly extinct species and stiffen penalties on the state level. Those in favor of outlawing existing and incoming animal parts said the new restrictions are a good start for a state with two of the top 10 busiest ports. Opponents argued that it would make criminals out of folks who bought the items with animal parts, such as antique ivory, legally.
---

Coeur d'Alene City Council Races
Preliminary results
City Council Seat 1
Ron Edinger: 66 percent (1,742)
Toby Schindelbeck: 34 percent (908)
Ron Edinger maintained his city council seat against challenger Toby Schindelbeck, taking 66 percent of the vote, according to initial results.
Throughout the campaign, Schindelbeck expressed his frustration with
ignite
cda
(formerly the Lake City Development Corporation), an independent development agency with a focus on urban renewal. His attempts to sway voters to bust up the "good old boys club" ultimately failed when pushed up against Edinger's more than 40 years of experience as councilman and mayor in Coeur d'Alene.
During his campaign, Edinger promised to advocate for public safety by fully funding the city's police and fire departments and touted his connection to citizens and deep roots in the city as his most shining qualifications.


City Council Seat 5
Steve Adams: 37 percent (999)
Dan English: 57 percent (1,508)
Bruce MacNeil: 6 percent (158)
Challenger Dan English unseated the fiscally conservative incumbent Steve Adams in the race for Coeur d'Alene City Council. English served as a council member in the early '90s before being appointed Kootenai County Clerk. Of all three candidates for Seat 5, English was the only one who said he did not want to abolish Coeur d'Alene's independent urban renewal agency, ignite
cda
.
At the top of Adams' priority list, were he re-elected, was reducing property taxes and nixing ignite
cda
. But with both Edinger and English winning, it's a good night for urban renewal in Coeur d'Alene.