From Inlander.com
The Spokane Police Ombudsman Commission
made an unexpected decision
in the midst of election night mayhem, deciding to
offer the job to Raheel Humayu
n, a Canadian who will have to sort out some work visa issues before taking the job. He was originally the commission's second choice, but controversial comments by one of the others, and an undisclosed item from an investigation into the other left Humayun as the last man standing.
There is an incredible array of
literary talent heading to the Inland Northwest
in the coming month;
here's a roundup
of readings, book signings and lectures available to the public.
The
Modern Theater has a plan
to encourage younger audience members to enjoy live theater; namely,
offer a sweet deal to college students
.
Elsewhere in the news:


The election continues as ballots are tallied up, and a race for Spokane School Board is
proving the most exciting for political junkies
. Incumbent Rocky Treppiedi went to bed on election night with a lead in the race to hold on to his seat, but now challenger
Jerrall Haynes
, considered a more teacher-friendly alternative by many in the education community,
has taken a slight lead
(Spokesman-Review).
The
Spokesman-Review
did
a nice breakdown
of how the Spokane City Council race results show a
city divided between conservatives and progressives
.
There's been twice as much pot grown in the state of Washington in 2015 than in 2014, and basic economics says a surplus of supply should mean
lower prices for the state's recreational pot users
, according to
this KREM report
.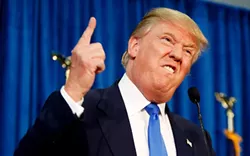 GOP presidential candidate
Donald Trump is finally going to buy some advertising
to promote his campaign, but just in the first three primary states (at least for now). Recent polls show
Ben Carson racing by Trump
in Iowa and even leading the New York real estate icon and reality TV star nationally in some polls.
Marco Rubio is gaining as well
, although questions of his personal finances continue to dog the Florida senator, most recently his
use of a Republican Party credit card
.
That whole "
Death to America!
" bit you've heard from Iranian leaders for years, including the current Supreme Leader Ayatollah Ali Khamenei? It's
not meant to be taken literally
. At least, that's what the Supreme Leader is saying, noting in a recent press statement to Iranian TV that it's simply referring to America's policies, not the country itself. So that's good to know. (CNN)