Another weekend of football is upon us and things are getting interesting throughout the Inland Northwest. This week, the fourth-ranked Eastern Washington Eagles host the potent Northern Arizona Lumberjacks offense, the surprising WSU Cougars invite Arizona State to town, the Idaho Vandals look to even their conference record in Southern Alabama and the Whitworth Pirates look for win number eight at home against the Willamette Bearcats.
Arizona State Sun Devils (4-4, 2-3 Pac-12) vs. Washington State Cougars (5-3, 3-2 Pac-12) 12:30 pm on FOX Sports 1, Martin Stadium, Pullman

When the Cougars lost to Portland State University to open the 2015 season, things didn't look good for head coach Mike Leach and WSU football. Against all odds, the crimson and grey have done the opposite of "Couging it" and turned their season around with big wins against Oregon and Arizona. After nearly pulling off an improbable upset of Stanford in Pullman, the Cougars regroup for another home contest against the mediocre Arizona State Sun Devils.
Led by quarterback Luke Falk, who was recently added to the Manning Award Watch List, the Cougars offense leads the Pac-12 in passing yards (407.4 yards/game), good for third in the FCS. Redshirt junior receiver Gabe Marks is approaching some Cougars history with 186 career receptions, only 9 behind the WSU career record held by Michael Bumpis. Marks leads the Pac-12 in catches (63), touchdown receptions (11) and catches per game (7.9).
Arizona State has a historic receiver of their own in senior D.J. Foster, who made the switch from running back to receiver in 2015. Foster has 2,294 career rushing yards and 2,239 career receiving yards, making him only the fifth FBS player ever to have 2,000-plus career yards in both categories. The senior from Scottsdale could become the first player ever in the FBS to achieve 2,400 yards rushing and receiving in a career.
Northern Arizona Lumberjacks (5-3, 3-2 Big Sky) vs. #4 Eastern Washington Eagles (6-2, 5-0 Big Sky) 3:05 pm on SWX, Roos Field, Cheney, WA
Once again, the EWU Eagles squeaked through another Saturday, defeating the Weber State Wildcats 14-13 at Roos Field last weekend. The victory was the sixth straight for Beau Baldwin's football team, which still remains undefeated in the Big Sky Conference. The Eags will welcome Northern Arizona this week, a team fresh off two huge victories, winning by a total of 58 points against two teams that EWU beat by a grand total of three points.
The Eagles' improved defense will have its work cut out for them against the NAU offense, led by freshman quarterback Case Cookus. The California native leads the FCS in passing efficiency (197.4) and has completed 70 percent of his passes en route to 26 touchdowns, only three interceptions and 2,130 yards.
Not to be outdone, Eastern also boasts a dangerous aerial attack, fueled by a great season by redshirt junior quarterback Jordan West. Aided by the greatest receiver in FCS history, Cooper Kupp, the EWU quarterback is fourth in the nation in passing efficiency (169.6) and has thrown for 509 more yards than NAU's Cookus (2,639) while completing 68 percent of his passes and leading the FCS in touchdowns (29). Needless to say, there should be some offensive fireworks in Cheney on Saturday.
Idaho Vandals (3-5, 2-3 Sun Belt) vs. South Alabama Jaguars (3-4, 1-2 Sun Belt) 12:00 pm on ESPN3, Ladd-Peebles Stadium, Mobile, AL

Coming off a painful overtime loss to New Mexico State in Las Cruces, the Vandals travel to Alabama to face South Alabama for only the second time in the two schools' histories. The Vandals offense, which leads the Sun Belt Conference in first downs and boasts the second best passing offense (268.8 yards/game), will look to continue their success behind sophomore quarterback Matt Linehan.
The gunslinger has completed 63.1 percent of his passes, compiling 1,911 yards and 10 touchdowns while surrendering nine interceptions. His seven games with at least 300 total yards have contributed greatly to the Vandals offense. On the other side, USA senior quarterback Cody Clements has had an average year, passing for 53.1 percent, 10 touchdowns and nine interceptions, totaling only 1,593 yards. The Idaho defensive front will look to get pressure on the immobile Clements, who has rushed for negative seven yards in 2015. Senior defensive end Quinton Bradley should be able to build on his impressive 2015 campaign, in which he has totaled four sacks and 12 tackles for losses.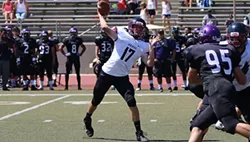 Whitworth Pirates (7-1, 4-1 NWC) vs. Willamette Bearcats (2-5, 2-3 NWC) 1:00 pm, McCulloch Stadium, Salem, Ore.

The Whitworth University football team has a chance this season to do something that has been done very few times in school history. With a victory against the Willamette Bearcats on Saturday, the Pirates would get their eighth win of 2015, a total that has been equaled only seven other times at Whitworth.
After suffering their first defeat of 2015 to Linfield two weeks ago, the Bucs rebounded with a 50-33 victory over Pacific (Ore.) in which they compiled 648 total yards fueled by 323 yards on the ground. Redshirt sophomore quarterback Ian Kolste threw for 386 yards and a touchdown in last week's victory, along with 68 rushing yards and three touchdowns via his feet.
Kolste has completed 61.4 percent of his passes on 2015, racking up 2,185 yards, 13 touchdowns and 5 interceptions. Number 17 can also run the ball, with 85 rushing yards and five touchdowns thus far. Willamette will look for another big game from junior tight end Austin Jones, who hauled in six receptions for 95 yards and four touchdowns last weekend against Lewis & Clark. Jones has caught 24 passes in 2015 with 354 yards and a team-leading five touchdowns.