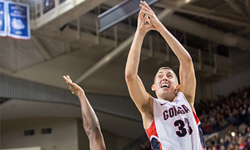 If the Washington State/Gonzaga game tonight (8pm, FS1) doesn't feel much like a rivalry game, you're not alone. Hell, Ernie Kent basically told the
press he feels the same way.


Kent was clearly unhappy that Gonzaga has set the terms of the WSU vs. Gonzaga matchups as of late, most notably in having last year's game at the Spokane Arena. But tonight's matchup is indeed in Pullman at WSU's Beasley Coliseum, so that should at least make Kent a little happy.
The problem, however, is that Gonzaga and WSU have no plans for the rivalry, which is in its 150th installment tonight. If that seems a damn shame, that's because it is. Just when Gonzaga and Washington got back on playing terms beginning annually next year, this happens. Obviously, it's not as simple as just "they don't want to play us" and, actually, far from it. College basketball scheduling is a tricky feat, especially for a team like the Zags who've made high art out of traveling first the country at large, and then the world, to play big-name opponents before entering a conference slate against less-prestigious teams.
Also, remember when the Zags used to play Eastern Washington on a regular basis? But I digress. Let's talk about this game, which, after all the awful things that happened today, should be a nice treat for those fortunate to be able to sit down and clear our minds with some basketball.
Gonzaga heads down to Pullman for their shortest road trip of the season and will play the first road game thus far that didn't require a passport. First, they went to Japan to play half a game on a dripping wet court against Pitt, and then headed to the Bahamas for the Battle 4 Atlantis, which has become, in recent years, perhaps the most competitive early season tournament.
There, they put up a convincing win over a very young Washington team, but then struggled down the stretch against Texas A&M and dropped that game 62-61 when Silas Melson's jumper was off target at the final buzzer. The tournament, however, was salvaged by the Zags, who were able to knock off 18th-ranked UConn, 73-70.
If you want some very detailed analysis of the tournament in the Bahamas, check out this podcast Free Ira Brown (in reference to the former Zag and fan favorite). I just stumbled upon it and it's solid stuff for the devoted fans out there.
But back to tonight's game. Let's talk about the undefeated Washington State Cougars. That's right, Ernie Kent's warriors, although picked to finish dead last in the Pac-12, have not lost a game thus far. It should be noted, however, that those wins came against Northern Arizona, Idaho State, Cal State Los Angeles and Texas Southern, none of which are good. At all.
Unlike the Zags, the Cougars haven't left home this season, and will again have homecourt advantage tonight. Junior Josh Hawkinson is averaging 18 points a game and had 14 rebounds against Idaho State. Hawkinson played well on offense against Gonzaga in last year's matchup, dropping in 18, but both Kyle Witljer and Przemek Karnowski took him to school on the defensive end. That will probably happen again.
That said, the Cougars have historically played the Zags very well down in Pullman. The Cougars have won two out of the last four matchups at Beasley.
On a totally tangential note? Ever wonder what David Stockton is doing? He's playing in the D-League and still has no fear of taking a charge, even if it means he ends up on a poster.