FROM INLANDER.COM

• When Spokane closes a CEO job door, it opens a CEO job window
County Commissioner Todd Mielke didn't get the CEO of Spokane County job that he wanted. But that's okay, he
ended up with a CEO job anyway
. Starting in February, he'll
take over as CEO of Greater Spokane Inc
. That leaves a spot open on the board of county commissioners.
• Snyder-Man's Daring Escape!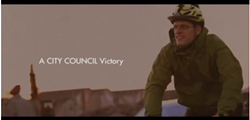 At the same time, Spokane City Councilman
Jon Synder is leaving the council
in order to
take a job as Gov. Inslee's policy advisor
for Outdoor Recreation and Economic Development, marking yet another promising, intelligent idealist leaving Spokane for the West Side. It also means another opening on the city council. Apply now.
• Ultimate Bar Fighter
Mixed martial arts star Julianna Pena was
arrested on assault charges
after Zola bar staff allegedly denied her wounded partner the use of the bathroom after hours. She allegedly responded to the denial, rudely, with
kicks to the groin
.


OTHER HEADLINES

• Rare Loot
Sometimes, when you break into a vehicle, you find a window scraper, some change, and some stale McDonald's fries under the seat. Other times, it's a
sheriff's department vehicle
, and you leave with a Colt M16A1 rifle, a portable radio, a bulletproof vest and a Canon digital camera. If you have any information, there's a
cash reward
. (KXLY)
• No charges
In a case that sparked plenty of conspiracy theories, 28-year-old Sandra Bland
was found hanged in her cell after landing there due to a traffic stop. However, grand jurors have
declined to indict anyone
in the case, though it's still technically open. (New York Times)

• Some of his best friends are black
Donald Trump's campaign
has been called racist by observers
from a wide variety of political spectrums. So what happens to his black friends? Some, like Russell Simmons, have denounced their former
amigo
. Others like
Hangover
star Mike Tyson, have continued to defend him. (New York Times)
• Permit Denied
The attorney general of Virginia, which has tougher gun laws than many states, will
no longer recognize concealed-carry permits
from half the states in the country. (Washington Post)

• A Great Name For a Rock Band
The AV Club itemizes the year's strangest
band names
.