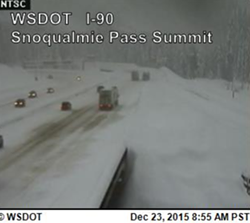 Oh the weather outside — especially in Snoqualmie, White and Stevens Pass — is frightful …
For those of us who didn't plan ahead and purchase airline/bus/train tickets for the long holiday weekend, driving is the best bet to get over to granny's house, or whomever you're trying to visit on the west side of the Cascades. Unfortunately, for the last week or so, the passes have been inundated with snow and ice. Snoqualmie has already gotten
more snow than all of last year
. And it's not getting any better.
The KXLY weather
forecast
predicts that today and tomorrow will remain cloudy with high chances of snow showers. Temps will hover around that 30 degrees mark, perfect for snow. Not so perfect for those trying to get out of town.
At this time the passes aren't permanently closed, but they have been closed on and off today for avalanche control. As Washington State Department of Transportation spokeswoman Barbara LaBoe notes, it is winter travel season.
"People need to prepare," LaBoe says. "Don't be in a rush. Remember to leave extra room between you and the next vehicle. The last couple days, backups have been caused by people spinning out. One vehicle can shut down the pass."
LaBoe says that crews have been working 24 hours a day to plow and clear the roads, but it has been hard to keep up with the snow dumping full force. Her advice is to pay attention to the forecast and check on the WSDOT
website for pass
instructions.
"We're working hard out there," LaBoe says. "We want everyone to be able to get where they want for the holidays. But safety is important."
Check
here
for the I-90 mountain passes and more in North Idaho.
The dad-approved survival kit to get you through
Dads can be annoying with all of their caring and whatnot, but sometimes they have excellent ideas to keep you safe while traveling in unpredictable winter weather. Here are some items to have on hand in case you end up in a ditch.
• Flashlight
• Boots
• Large, fluffy blanket
• Jug of water
• Munchies – granola bars, Goldfish, homemade Chex Mix, apples, popcorn
• Car chains (yes, even if you have all-wheel drive, as all vehicles may be required to put them on midway through your journey)
• Shovel
• First aid kit
• Full tank of gas