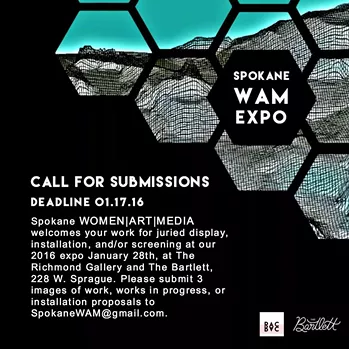 In a month's time, the newly established Richmond Gallery in downtown Spokane (located at 228 W. Sprague, next door to The Bartlett) will host a multimedia exhibition all about the local ladies in our region's art scene.
The inaugural WAM Expo is a twofold event, a juried art show and the debut of the Spokane WAM organization — the acronym stands for Women Art Media — a collective of local women artists across all creative disciplines, says cofounder Rebecca Chadwell.
"It really grew out of a cup of coffee," Chadwell says. "We had a meeting and then kind of said it would be nice to show each other what we're working on, even if it's just in process — a casual space for friendly creative exchange, and that's what the expo is."
Submissions for the January 28 exhibition are being accepted through Sunday, Jan. 17. Women artists in the area are invited to submit their work in any media, including audiovisual, film, music, performance and literature. The call for submissions explains that the show isn't focused on art about or representing women, instead seeking to highlight the creative female minds in the arts community.
Chadwell says another goal of the event and future projects and programs of WAM is to encourage the sharing of technical skills in the creative industries.
"A point of focus [Spokane WAM] wanted to address was how to acquire technical skills, like how to hook up certain equipment, how to throw events, how to write a press release, etc," she explains.
While the upcoming art show is Spokane WAM's first public event, future events to be planned should include networking opportunities, educational sessions, guest speakers and more. Stay up to date on the newly founded organization through its website and Facebook page.