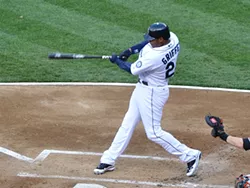 ON INLANDER.COM


• Here's how Spokane Sheriff Ozzie Knezovich would
handle
the situation in Berns, Oregon.
• Check out our
guide
to the presidential candidates, and who some local wonks are
leading toward
.
• Not a "country" music fan? Check out local act
Silver Treason
at nYne this Friday.
IN OTHER NEWS:


•
The Kid takes his place in the Hall

Ken Griffey Jr. takes his place among
baseball's immortals
in the National Baseball Hall of Fame, along with Mike Piazza. Junior set a new record with 99 percent of the vote (437 out of 440), and will have a White Sox cap on his plaque.
Just kidding! He'll being wearing a
Mariners cap
. The only question is which way it will face.
•
Macy's out

The largest retailer in downtown Spokane will close in March. (
Spokesman-Review)


•
Inslee's on gun violence

Gov. Jay Inslee
issued
an executive order outlining how he plans to change gun regulations in the state. Sheriff Ozzie Knezovich is
not entirely
impressed. (KXLY)
• The Texas state trooper who arrested
Sandra Bland
, the woman later found hanged in her jail cell, has been indicted on
perjury charges
, according to prosecutors. The trooper could face up to a year in jail and a $4,000 fine, and it looks like he'll be fired.
Here's a sample of Silver Treason: