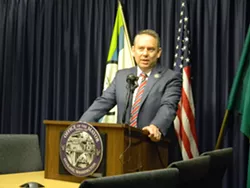 Mayor David Condon has vetoed the
recently passed paid-sick leave ordinance
in hopes of buying more time to address concerns about how it'll be implemented.
The ordinance, long a priority of Council President Ben Stuckart and his allies on council, was passed on Jan. 11. The ordinance will require most businesses in Spokane to allow their employees to accrue paid time off to deal with illness or domestic violence. Start-ups are exempt from the ordinance for their first year, and it doesn't apply to the building trades industry. Employers with 10 or more employees must provide five days of time off. Businesses under must provide three days.
Speaking at a press conference, Condon said his decision to veto the ordinance was a deliberative and difficult decision on his part. He also acknowledged that council, which passed it on a 6-1 vote, could easily overturn his veto. But Condon was hoping that his veto would, in effect, hit the pause button and allow more time for a discussion between the administration, the council and the business community on how to implement it.
"I'm more of a carrot than a stick kind of person," he said.
Condon said he was unsure how the city would enforce the ordinance and what agency would audit businesses to be sure they were in compliance. He also noted that he didn't think enough outreach had been done, saying that some businesses weren't even aware it had been passed. Additionally, Condon said that despite economic gains in Spokane, he was concerned the ordinance, which doesn't go into effect until next year, would hurt businesses.
Stuckart wasn't immediately available for comment. But in a letter he sent to the mayor on Jan. 14, he suggested forming an implementation task force comprised of two representatives from council and two from the administration. Noting that council had set aside $50,000 for education regarding the ordinance, Stuckart also suggested creating an implementation plan developed by city staff and representatives from the Washington Restaurant Association, Greater Spokane Inc. and the Downtown Spokane Partnership.
"I believe with this funding and with a strong implementation plan developed by the community and staff, the City can and will roll this ordinance out very smoothly," reads the letter.