Over 6,000 students in the region have amp-ed up their P.E. game — to get Fit For Bloomsday. Elementary schools from across the Inland Northwest are scheduled to participate in Bloomsday's annual kids fitness and health program, with late sign-ups still welcomed.
The Fit for Bloomsday...Fit For Life program (Fit for Bloomsday, for short) is in it's 31st year of operation, educating kids on everything from healthy eating to proper exercise training. This year, over 60 elementary schools and around 6,500 students have signed up to participate in the 8-10 week program.
"We're really pleased with the support this program receives from principals, teachers, PE instructors and parent volunteers," Bloomsday Race Director Don Kardong said in a press release. "They're really making a difference in the fitness of kids in the community."
Over the past 31 years, the program has been exponentially supported, and more than doubled in size over the course of its existence. In its inaugural year, Fit For Bloomsday had about 35 schools and 2,500 kids participating in the yearly program. Although 31 years seems like a long time, and it is, the Kardong and the Bloomsday officials believe their mission that started in 1986 still holds true. With support from PE instructors, teachers, and other figures in the communities, the goal of integrating the mission of Bloomsday into local schools became a reality.
"I think it's evolved over the years, but the basic idea is still the same," Kardong said. "We certainly get more schools signing up for it than we did when it first started."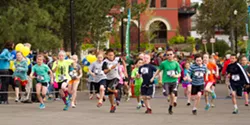 Every year, schools from this region sign up as they have for years, and the program has been consistent in terms of numbers. But as for expansion to reach further for more schools, Kardong says that, for now, those 60 to 70 schools are enough for their capacity to encourage and teach kids about fitness and health — with a lasting impact.
"We hope as [the students] get older, they understand running and fitness and eventually they'll come, if they haven't already, [to] the big Bloomsday."
As the 6,000-plus students begin their program this year, the mission and drive behind the work that the Fit for Bloomsday...Fit for Life program provides the community is steadfast, even after 31 years. It's about getting kids off the couch and moving.
"It's fine to say kids should have an hour of exercise, but do they [actually] do that?" Kardong said. "This [program] isn't the total solution, but it's part of it."