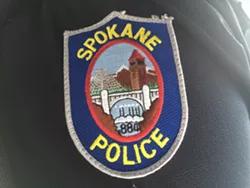 After more than a year without independent police oversight, Spokane has finally hired an ombudsman.
The ombudsman commission voted Tuesday night to offer former Marine Corps police chief and foreign diplomat
Bart Logue
the interim position. He is expected to start next Monday.
The offer is for a four-month contract — the longest amount of time allowed by the city's
municipal code
— while leaving open the possibility that the commission can renew the contract if Raheel Humayun, the man the hired for the permanent position, is unable to get a visa.
During their monthly meeting last night, the five commissioners said they were impressed when Logue presented his three goals for the office during a public interview
last week
.
ICYMI, Logue's three goals are:
1. "Restore any sort of continuity to the office. I'm going to walk into that office and look at every single piece of paper I can find, read every single case file that's outstanding. That's the first priority."
2. "Tackle a hard one. I want to make sure it gets the proper attention that the ombudsman's office was created for. I'm going to give you my life for the couple weeks, couple months, whatever it is. … The citizens deserve that."
3. "This one's more personal. I want to take the time to understand the problem-set more. I want to have people in Spokane know who I am and develop my expertise more in this area. So every day I'm going to respond to a citizen complaint, as many as I can in a given day."
As for Humayun, it looks as if he will find out whether or not he qualifies for a visa by the end of February. That means he could start working in April.
Last night, commissioners also passed a motion that asks the ombudsman to establish a procedure for conducting independent investigations, including those that stem from requests for investigations made anonymously. The discussion over the ombudsman's authority to conduct adequate investigations independent of the police department has been a hot
topic of debate
since 2014.
OPO Commission attorney Breean Beggs clarified that while an request for investigation can be made anonymously, any investigation triggered under those circumstances cannot result in discipline for the subject of that request.