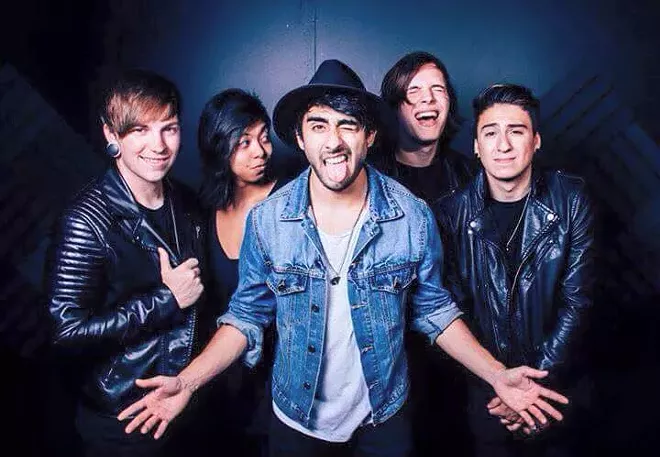 After months of waiting, the local hard-rock/screamo act
Light Up the Sky
has announced a national tour and album release for March.
The
Inlander
profiled the band
in September, when they had recently announced signing to label Rise Records (a BMG subsidiary out of Portland, known for its stable of screamo and hardcore acts). When we last checked in with the group, they were sitting on their March 2015-recorded album, just waiting for the label to give it a green light.
Bass player Isaac Luna says the group is beyond ecstatic about progressing forward.
"We're finally doing this," Luna says. "The national tour was never for sure, and then it actually happened."
The tour
includes other Rise Records acts, with Like Moths to Flames headlining and Ice Nine Kills and Make Them Suffer also opening. While the caravan is playing all over the country, there is no Spokane show scheduled at this time. Luna says he hopes that can change.
For Light Up the Sky, getting to quit their minimum-wage jobs was just another perk.
"Everyone at my work didn't believe me when I said I was going on tour," Luna says.
In the meantime, the five-piece band practices hours a day, just wishing that March would get here sooner. The band's guitarist Brian Van Buskirk recently moved up from Portland to make rehearsals more efficient. Even if more emotional rock music isn't everyone's cup of tea, Luna says the rest of the Spokane music community has only been supportive since the tour and album news hit last week.
The new album,
NightLife
, includes 11 tracks of "pop rock, heavy rock and acoustic songs — a little bit of everything," Luna says. The record drops March 18.
The band's new music video for "Breather" was also released last week. Since then, the YouTube post has received nearly 50,000 views.
"We'll be living on the road for all of 2016," Luna says. "That's the plan. This is everything."