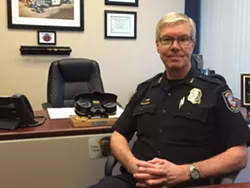 UPDATE Feb.5, 2016:
The Spokane Police Department released a statement this morning saying "Though the internal investigation is not yet complete, new information came to light that supported [Capt. Brad Arleth's] return to duty. At this time, we anticipate the internal investigation concluding in the next week or two."
Officer Teresa Fuller could not provide specifics on the "new information," but said all the details will be released after the IA investigation is completed.
Our original story is below:
The leader of the Spokane police
downtown precinct
will return to work tomorrow, Officer Teresa Fuller confirmed.
Interim Chief Rick Dobrow placed Capt. Brad Arleth on leave on Jan. 4 following an internal complaint regarding a "serious violation of policy." Dobrow has declined to elaborate on the violation, citing an open Internal Affairs investigation, but the
Spokesman-Review
and
KXLY
have reported that the complaint alleged Arleth moved furniture from the precinct's previous location near the STA Plaza to the new location without permission.
Dobrow, during a recent Public Safety Committee meeting, said the allegations extend beyond a disagreement over furniture.
Fuller did not know whether Arleth's return to duty means the Internal Affairs investigation is complete.
Moving the Spokane police precinct from its original home near the STA Plaza has ruffled some feathers among Spokane's business community, STA board members and the city council, but a recently released letter from unnamed officers who work out of the downtown precinct reveals more inadequacies with the new space at the Intermodal Center.
According to a letter addressed to Spokane Police Guild President Sgt. John Griffin and dated Dec. 14, officers were unhappy with the "inadequate and unsafe working conditions at the Intermodal."
"There was no input requested from us as to what our needs would be or what we could do better or differently than our current location to make us more efficient," the letter reads.
Among their complaints:
• No room for bicycle storage
• No sink for filling water bottles or doing dishes other than the bathroom.
• "The front counter design does not provide a safe environment to operate. It should have been reduced in size to allow the officer to control the number of people at the counter."
• "The glass windows and entry ways do not allow for safe entry or exit and windows are not bullet proof."
• No privacy for a private conversation.
• No locking cabinets to store confidential information.