In the early days of video games, point-and-shoot games often placed players inside a confined space, challenging them to escape by exploiting their surroundings. But alas, when imagination isn't enough, you make it real. It comes as no surprise then, that these and other modern, online games have sparked a new chapter of puzzle-solving entertainment as real-life escape rooms have emerged in recent years in cities across the U.S.
These real life escape rooms require quick thinking and some physical adventure. Typically, clues are placed throughout the room, giving participants an hour to crack the code to gain their freedom. It's not easy — often a clue or two will bamboozle you for longer than you'd like. Some tricky puzzle makers might even try and throw you and your group off-track with red herrings that actually have nothing to do with "breaking out" of the room you're trapped.
And more often than you may guess, groups who take on these escape room challenges might fail to solve their predicament before time runs out. As the escape room entertainment trend has grown in popularity, the trend has reached the Inland Northwest in full force over the past year. Below are some escape rooms that recently broke onto Spokane's entertainment scene (some local media outlets have even tried to escape these confinements). Take a look and partake in them if you dare.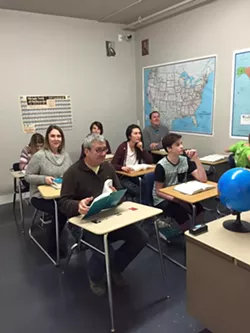 CLAUSTROPANIC
1325 E. Francis Ave. | claustropanic.com
Claustropanic is home to three different rooms: school detention, a fallout shelter and an interrogation-themed puzzle. With 60 minutes on the clock, up to eight people can work as a team to escape from one of these confined rooms. As a school delinquent, your attention to detail is tested in an hour-long detention session. If you choose to face a nuclear disaster, you must break free from a faulty fallout shelter due to limited air supply. Or, opt for a session in the interrogation room and dupe your kidnappers with clues left behind from your boss. You choose, but the clock is ticking.
ESCAPE SPOKANE
7456 N. Division | dareyou2escape.com
One of the first escape rooms to open in Spokane, there are three different themed options here: prison, purgatory, and Dr. Ella Mentall's Testing Facility. Most first-timers try the "prison escape" because it's the most standard of the three, though purgatory is perhaps the most thrilling because of its horror elements. Escaping from any of these rooms is not a picnic! On average, only 20 percent of participants succeed. So, if you're looking to get your brain working and want a variety of themes to choose from, this is an option.

KEY QUEST ESCAPE ROOM
202 W. Second Ave. | keyquestescaperoom.com
With some incentive and team work, groups of up to six individuals can try their hand at finding the plane tickets hidden in a ransacked travel office to make it to the airport in time to make their vacation flight, or escape certain death at the hands of a serial killer from the depths of a dark cellar. Groups who make it out of their room successfully in the 45 minute time block are awarded a Laser Quest 2-4-1 pass. As one of multiple Key Quest locations across North America and Canada, these rooms offer a team-building experience for individuals looking to bond, or just for some live-action fun.
CARTEL HAUNTS
225 N. Ella Rd., Spokane Valley | cartelhaunts.com
To match the changing of the seasons, Cartel Haunts regularly builds new rooms with different themes. During the month of love, there's a Valentine's-esque, horror-themed escape room called "The Curse of Evilina." Visitors must follow clues and retrace Evilina's tracks while looking for her dead body. The room is set up like a haunted house and there are creepy elements throughout: a masked man lurking in corners while you search for clues, moving in once in a while to groan in your ear, and a ghost woman popping out when you least expect it. Your brain might hurt at the end of the hour because the clues require acute cleverness.