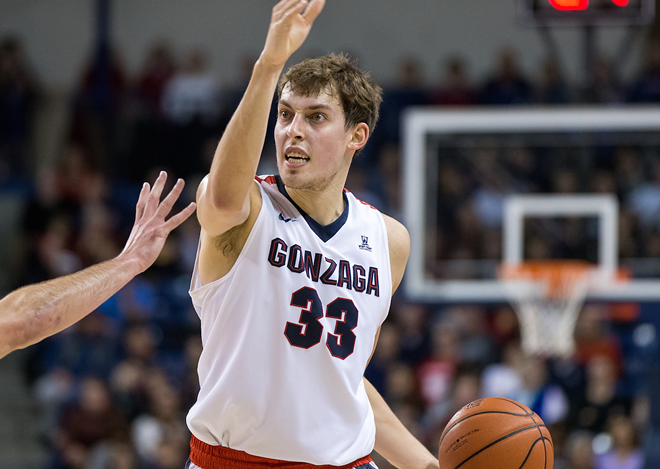 If Gonzaga's two road wins to close down its WCC season helped the team earn a
tie for the conference championship
(which it did, technically speaking), that's all well and good. But those wins against San Diego and BYU could have much greater significance in a little less than two weeks.
That's when Selection Sunday for the NCAA tourney goes down, and Gonzaga could obviously get the WCC automatic bid if the team goes to Las Vegas this weekend and wins the conference tournament. But even if they, say, lose in the WCC final, they could sneak into March Madness thanks particularly to Saturday night's tough win at BYU's giant, 20,000-capacity arena.
The beatdown of San Diego on Thursday was expected; that team lost to BYU by nearly 60 points a week previous. But BYU came into Spokane and beat the Bulldogs earlier this season, and were in the midst of a serious hot streak, scoring more than 90 points several times while putting together a five-game win streak.
Gonzaga wasn't looking great leading up to Saturday night. Yes, the team was undefeated against the WCC also-rans, but they were 0-3 combined against BYU and conference co-champ St. Mary's, including home losses to both. Add in losses to UCLA, Arizona and SMU over the course of the season, and Gonzaga just didn't seem capable of winning a big game.
That makes
Saturday night's 71-68 win
all the more significant. For the first time in recent memory, the team put together the kind of complete game they'll need to beat good teams in March Madness.
Kyle Wiltjer? He led all scorers with 21 points.
Domantas Sabonis
? He had another double-double, dominated inside when they needed him to, and managed to stay out of foul trouble until the refs dropped a highly questionable call or two on him in the final minutes.
The rest of the team? Solid, particularly Silas Melson, and together the Zags held BYU below 70 points, which has only happened four times all season (twice to Gonzaga).
Granted, the NCAA tournament selection committee might not think of BYU as a quality win, but I think Gonzaga's reputation, past success in the tourney and star power in Wiltjer and Sabonis will get the team into the Big Dance, as long as they at least make it to the WCC tournament championship game.
But that's just me.
Here's what's coming up for our regional hoops teams this week:
Gonzaga
plays Saturday night against Portland at 9 pm.
Eastern Washington
closes out its Big Sky schedule at home with Idaho State Thursday and Weber State Saturday.
Idaho
,
hot off a win against EWU
, takes on the same two teams — Weber State Thursday and ISU Saturday.
Washington State
plays at Washington Wednesday to close out its Pac-12 season.
Whitworth hosts a Division III NCAA tourney second-round game
Saturday against the winner of Whitman vs. Chapman after receiving a first-round bye.
Whitworth won the NWC conference tourney
with a beat-down of Pacific Lutheran on Saturday, 75-62.