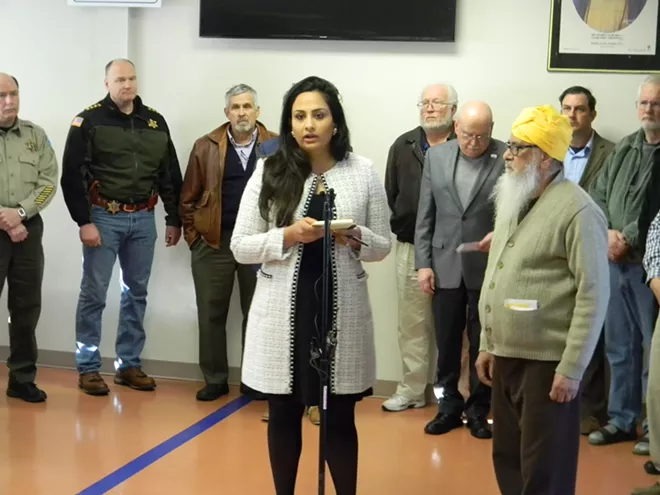 A man, cold and hungry and possibly high on drugs and alcohol, broke into the Sikh Temple of Spokane and desecrated objects sacred to the religion after mistakenly concluding it was a mosque affiliated with terrorist organizations, according to Spokane County Sheriff Ozzie Knezovich.
At a press conference held yesterday at the temple, the mayors of Spokane and Spokane Valley along with other elected leaders, law enforcement officials and representatives from religious communities joined together in condemning the act.
"This is not who we are," said Spokane Valley Mayor Rod Higgins at the press conference, a sentiment that was echoed by Spokane Mayor David Condon and others. "This is not who the people of the Valley are and we do not condone any action such as this. Any desecration of a house of worship is intolerable and cannot be tolerated and we won't."
According to the Spokane County Sheriff's Office, Jeffrey C. Pittman was found wrapped in nothing but a blanket in the temple, located in Spokane Valley, at about 5:45 am on Thursday, holding a sacred sword found in the house of worship. He had been detained by a member of the temple. Pittman is in custody and has been charged with first degree burglary, malicious mischief and malicious harassment, which is Washington state's hate crime statute. Members of the temple served him chai tea before he was booked.
Knezovich said Pittman had been dropped off in the area and broke into the temple seeking food and shelter after likely drinking and using meth. Pittman later told deputies, according to Knezovich, that the temple looked like it was a mosque affiliated with Islamic terror organizations ISIS or the Taliban, causing him to go on a rampage.
"It's a shame that a random act of violence turned into a desecration of a holy place of worship," said Knezovich. "We have too many of these acts happening in our community."
Subarna Nagra, a member of the temple, said many of the items damaged or destroyed came from India, where the religion has its roots, and are nearly irreplaceable. One of the items is the Sri Guru Granth Sahib, the religion's holy scripture that Sikhs treat with great reverence. Also damaged were musical instruments used in services, as well as furniture. A
gofundme
campaign has been set up to help replace the objects.
"The Sikh community is committed to equality justice and freedom for all," said Nagra. "These are not only Sikh values, these are American values."
Others who spoke at the press conference, like Skyler Oberst, president of the Spokane Interfaith Council, said the incident highlighted the need for greater religious literacy.
Regina Malveaux, CEO of the YWCA of Spokane, suggested that incidents like these reflect the vitriol that marks dialogue on the national level.
"I think at the moment we have this really ugly elevated rhetoric at the national level, which I think can sometimes fuel these kind of behaviors," she said.