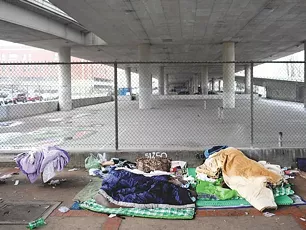 The Spokane police department released enforcement statistics on the city's sit-lie ordinance earlier this week that reveal how the controversial law is being applied.
The sit-lie ordinance makes it illegal to sit or lie on city sidewalks. In December 2013, S
pokane City Council voted to expand the hours
the ordinance is in effect from 7 am and 9 pm to between 6 am and midnight.
Proponents of the the law say that it keeps downtown orderly and helps direct homeless people toward services. Opponents say it effectively criminalizes homelessness, and could put the city at risk of losing federal funding.
Here's what the new numbers reveal.
Fewer people are being cited or booked under the ordinance
In 2014, police cited and/or booked 59 people. In 2015, that number dropped to 15. This year, there's been just two.
Brad Arleth, downtown precinct police captain, says that when the ordinance was put into effect, officers handed out thousands of fliers to people letting them know what to expect from the new law.
As for the falling number of people being booked or cited under sit-lie, Arleth says it's proof that the law is deterring people from sitting or lying on the sidewalk. He says that officers will issue a warning to someone in violation of the law first, and, if they're homeless, they'll refer the person to resources for shelter.
"If things stay at the same pace, we'll see much reduced enforcement this year," he says.
Police try not to arrest people under the ordinance
Since 2014, police have issued citations to 57 people. During that time frame, they only booked 19 people into jail for violating the ordinance.
Arleth says that's not an accident.
"We normally don't book someone into jail [for sit-lie]," says Arleth. "There's a cost factor, and the jail might not be accepting [arrestees] and it ties up an officer."
While Arleth says that officers may be reluctant to arrest someone under sit-lie, if they encounter a "hard case," who might be on drugs or resisting complying with the ordinance, they'll be booked in jail.
Blaine Stum, chair of the Spokane Human Rights Commission
(which has called on the city to amend or repeal the law
), says that his analysis of all sit-lie citations from 2013 to 2016 shows that 71 percent of people cited are homeless. He applauds the police department trying not to arrest people under sit-lie.
"They are trying to make it so it's not something they spend time in jail for," says Stum.
Most tickets are issued in the afternoon/evening
In July 2014, seven months after the expanded law had been passed,
Council President Ben Stuckart raised concerns that the ordinance would be used
to issue citations late at night when homeless people are trying to find a place to rest.
But the numbers show that most citations are issued in the afternoon or evening. There were only four citations issued between the hours of 9 and 11 pm.