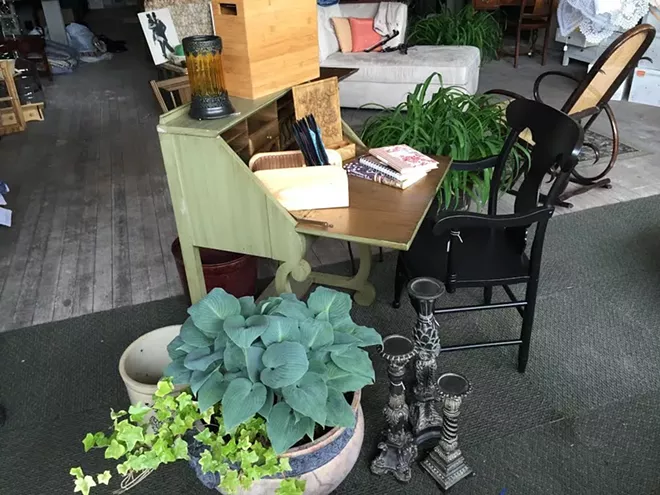 Opening this Thursday, May 5, is a new vintage and consignment boutique call
The Lilac Shop
. While joining the ranks of other businesses in the antique/vintage up-cycling and salvage trend, what's new here is that the secondhand retailer is only operating for a month as a pop-up shop.
Located at 2209 N. Monroe, a street filled with vintage and antique retailers, the Lilac Shop fills a space through May that was previously occupied by a martial arts studio (for reference, it's in the same building as the Hi Neighbor Tavern and a few offices). Owner Alyssa Agee explains that the pop-up concept is beneficial to both the building owner (her father-in-law) and the clients selling their wares in the space.
"It helps him because it beautifies the space and if he has potential long-term lease holders, they see it used as opposed to just bare and empty," Agee says.
For her, not committing to a long-term lease means there's no risk of getting stuck in a binding contract should the business not profit well; however, that's not entirely her goal.
As the owner of a local, professional organizing venture called Belle Mira, Agee works with clients to help them declutter and organize their homes. In that process, people gather up many items they no longer want or need. In response to that issue, Agee also offers workshops that share ways to repurpose or resell these things instead of just throwing them away.
The month-long Lilac Shop business model offers a low-risk way for her clients and others to get a few extra dollars when cleaning things out.
"My idea was to garage sale your items for you, in a sense," she explains. "Having a storefront increases the potential to sell at a higher price, and you may have some things that displayed properly could get a little extra."
Rather than focus on reselling higher-end items, The Lilac Shop middles between a collector's boutique and a take-all, sell-all thrift store like Goodwill. Agee has been working for the past weeks to organize and curate purposeful displays of the items in the shop.
"It's boutique chic at thrift-store prices, but we don't want it to feel like a thrift store," she says. "It'll be eclectic, but for me it's also about making sure I don't overfill the store. We're not going to put out everything immediately — we'll continue to bring stuff out and hopefully sell everyone's belongings by the end of the month."
Goods for sale at the Lilac Shop include men's and women's clothing and accessories, home decor and furniture. Some locally made artisans are also selling their wares in the shop.
Proceeds from most of the consignment items sold will be split 50-50 to Agee and the seller. For items valued at more than $25, she's splitting the profits at 60 percent to the seller and 40 percent to the shop.
After
a grand opening event this Thursday
, from 5-7 pm — which includes a raffle, gift bags for the first 25 shoppers and drinks and food in the spirit of Cinco de Mayo — the Lilac Shop's regular May hours are Thursday through Saturday, from 12-6 pm.