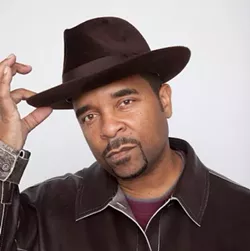 Pig Out in the Park
recently announced its big headliner for the annual long Labor Day weekend event — the one and only Sir Mix-A-Lot, which is seemingly an unusual selection as it feels like the artist was just here. The Seattle rapper played a sold-out Sandpoint Halloween show two years ago and also September's Perry Street Shakedown. The latter brought out hundreds of loud fans spilling into nearby
roadways.
While Sir Mix-A-Lot is a perfect addition to the Pig Out lineup, hopefully people won't soon tire of the MC's talents. As Sir Mix told the
Inlander i
n a
2014
interview: "Unlike a lot of rappers, I embrace capitalism, otherwise it's a life of struggling."
And perhaps that's a look into why the performer wants to come back to the area on an annual basis. We, so far, like coming to his shows, and he likes getting paid. In recent years the artist has seen a resurgence in popularity after Nicki Minaj's huge hit "Anaconda," heavily sampled his 1992 No. 1 track "Baby Got Back."
Of course, Sir Mix isn't alone. Plenty of artists like Hell's Belles and Tech N9ne, come through on the regular to the delight of their fans. It shall be fascinating to see where Sir Mix-A-Lot performs next.
The rest of the Pig Out in the Park lineup includes: Mark Farner, formerly of Grand Funk Railroad, Cowboy Mouth, Heart By Heart, featuring original members of Heart, the U.S. Navy Band and also local favorites Peter Rivera & Celebrate and Too Slim & The Taildraggers. The free three-day food/music will bring in more than 90 bands to three stages for this year's family-friendly festivities.
Also, with the construction on Riverfront Park, take a look at the new festival map below.