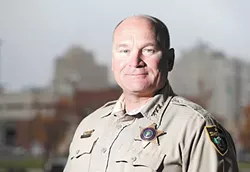 Years after the case was declared inactive, Spokane County sheriff's deputies will make another push
to investigate
allegations that former Bowdish Middle School teacher Anthony
Cucinotti
raped a sixth-grade student, according to Sheriff Ozzie Knezovich.
Cucinotti
was a part of
our cover story last week
that tackled how area school districts sometimes fail to protect kids from sexually abusive teachers. The Central Valley School District fielded complaints about
Cucinotti's
behavior, which included anger outbursts and allegations of inappropriate relationships with girls, for a period of over 16 years.
Cucinotti resigned in 2009 amid a district investigation after Emily Keenan, one of his sixth-grade students, told a school counselor that Cucinotti snapped her
bra in
class. He moved to California, where he remains today.
Three years later, when Keenan was 14, she also reported that
Cucinotti
had raped her multiple times over the course of the 2008-09 school year. She would later say that when he snapped her bra that day in class, he whispered "I'm gonna do it again," in her ear.
But law enforcement officials never interviewed Cucinotti about the rape allegations. Sheriff's deputies reached out to the Huntington Beach Police Department in California for help contacting Cucinotti, but law enforcement failed to contact him. Knezovich says the officers in California "could never get him to come to the door." With no physical evidence and no witnesses, the case was declared inactive in 2013.
A civil lawsuit was filed in 2013 against Central Valley School District, alleging that the district failed to protect Keenan by downplaying previous complaints about
Cucinotti's
misconduct.
Cucinotti
was found by attorneys and deposed in 2014 as part of that case. Earlier this year, Central Valley settled the case and awarded Keenan $2.5 million. The money came from the district's insurance.
Knezovich says he told his sexual assault unit Thursday to once again actively investigate the allegations against Cucinotti. He says "if we get further information, we will pursue this case."
When asked if there was anything more the sheriff's office could have done to find and interview the alleged rapist years ago, Knezovich says: "Answer that question for me, honestly. I'm not trying to be flippant ... what we have is an unsubstantiated report of a crime. We can't find any corroborating evidence. There's no probable cause."
He stresses that the sheriff's office takes rape allegations seriously, but sometimes deputies must rely on other agencies to help out. He added that the sexual assault unit has not increased its number of detectives in decades due to a lack of resources. He says there has been no attempt to rectify the problem that, as the population and the case loads for the sexual assault unit has increased, the number of detectives has not. He says the volume of these types of cases is "crushing."
"It comes to the point where sooner or later somebody has to do something to give us some resources so we can serve the public in a way we would like to," he says.
Sgt. Aaron Myhre, the head of the Spokane County Sheriff's Office sexual assault unit, says his unit has taken 40 child abuse or sex crimes reports just this week.
"And that's just since Monday. Over the
weekends
we get a lot more. I've got four guys, and those aren't all getting assigned to them," Myhre says. "It's kind of just triaging them as they come in, deciding which need to be worked right away."
The statute of limitations runs until a victim's 30th birthday. Keenan is 19. Myhre says it is more difficult to investigate rape cases if a suspect crosses jurisdictions, and it's even harder if there's a delay in reporting.
"And that's not the fault of anybody. Sometimes victims don't feel comfortable disclosing stuff with anybody and they keep it inside and hide it and when they do disclose it, sometimes it's several years later. Some are 10 years later," Myhre says. "That makes investigations much more difficult when collecting evidence than it does if it was something that happened last night or three days. Those are challenges, but sometimes challenges we can work through."