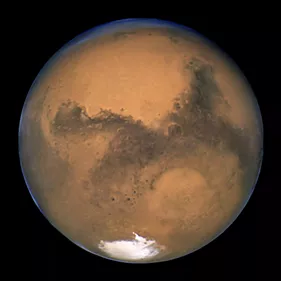 This trip to Mars is making me hungry
NASA is confronting a rather significant but mundane problem as it plans for a trip to Mars: how to store food so that it lasts five years. Enter Washington State University researcher Shyam Sablani who is part of a team that received a $450,000 grant to create plastic packaging that better resists oxygen and water vapor. Glass and metal containers currently offer the best shelf life, but they don't work with new microwave technology used to preserve food. T
he new plastic packaging could also be used by the military and for commercial purposes.
Animal Love
For the homeless, a pet offers companionship and security. But having a pet also means there's another mouth to feed. For the last year, 7th grader Avery Plank has been offering free bags of pet food for pet-owners attending the Blessings Under the Bridge meal every Wednesday evening. Avery collects dog food from local donors, including Costco, URM, Country Store, North 40 and Natural Grocers. He repackages it into one gallon resealable bags of dog food and quart-size bags of cat food. Project Unconditional Love goes through as many as twelve, 40-gallon storage tubs of packaged food each week. Contribute pet food and other supplies at the donation barrel at the Country Store on Newport Highway
or donate online.
Lift a Pint for the Animal Kingdom
Spokane's
Bellwether Brewing
hosts a pint night today, May 26, from 3-9 pm, with $1 from every pint sold donated to the Higher Ground Animal Sanctuary. Higher Ground is an animal refuge in Green Bluff that offers a home to creatures large and small, ranging from horses and donkeys down to rabbits and birds. Their mission? To "rescue homeless animals or animals in need, offer a place of refuge to peacefully live out their lives, and share our work and their stories to create opportunities for Humane Education." Cheers to that.