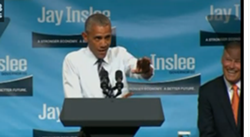 President Barack Obama was in Seattle last week to help raise funds for Gov. Jay Inslee's reelection campaign and had his speech interrupted by activists who want the president to halt oil trains, which have become an increasingly heated issue in the Pacific Northwest following the derailment of one in a small town in Oregon earlier this month.
"Mr. President, use your authority to ban oil trains now!" shouted a protester during Obama's speech.
Obama, at first, strained to hear what the topic of the
shouting
before responding.
"Alright, I got you. I heard you. I said, I heard you, I think now — I'm making a note of it. You made your point. Can I go on now?"
He continued:
"This is what I love about the Democratic Party. Doesn't matter how much I do I always have a bigger to-do list. I'm sorry. You organize the world around climate change, got a Paris Agreement signed. No, you didn't deal with this yet. So I still have six months, give me a little time. We're going to use those six months."
During the exchange, Inslee sat behind the president with a big grin on his face. That could be because the governor, according to a statement from his office, met with Sarah Feinberg, administrator of the Federal Railroad Administration, the same day to talk about the governor's options for stopping the shipment of Bakken crude oil by rail in Washington state and hastening and improving inspections of tracks.
Just last week,
federal regulators faulted Union Pacific
for failing to maintain its track, resulting in an oil train derailment that triggered the evacuation of Mosier, Oregon. Inslee also called on federal regulators to prevent Union Pacific from transporting oil by rail in Washington until they have more rigorous inspections of tracks.
"Action at the federal level is imperative. Slower train speeds, faster phase-out of older tank cars and electronic braking systems are real actions that can prevent potentially devastating accidents," Inslee said in a prepared statement. "I made clear to Feinberg that federal regulators need to act on these things immediately."
Here is video of the exchange from the local Fox affiliate:
Here is video of the exchange posted by the
Stranger: