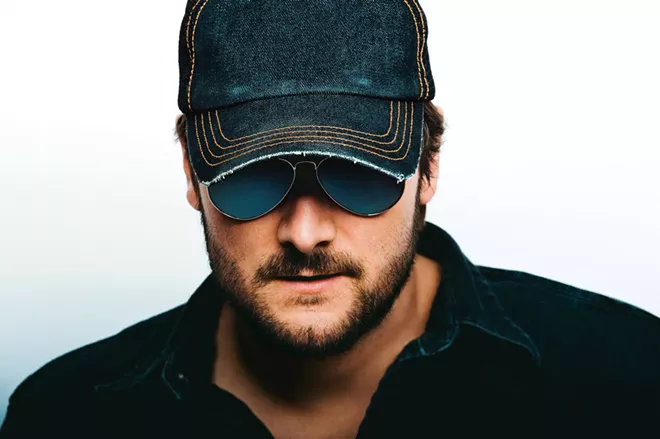 FRIDAY
All those good ol' country gals and guys are headed towards the Gorge this weekend for the first round of the annual
Watershed Music Festival
. This year, the event expanded to two weekends. This first one is sold out, but there are tickets available for the second. Headliners include
Eric Church, Jason Aldean and Keith Urban
. The three-day pass is $199 (if only Sasquatch! was so cheap). As it looks to be a scorcher out there this weekend, festival attendees should remember to apply sunblock and drink all the water. Yee haw!
Wrinkles
comes to the Big Dipper the night after their CD release party in Missoula, where they now reside. Although the electronic-pop/synth-rock act started back in 2012 in Helena, they often didn't live near one another thanks to college and jobs. Their new album, aptly titled
Separation Anxiety
, tells of these woes, as well as exploring the disconnect between real and perceived experiences. Stream the full album
right here
. Tonight's show starts at 7:30 pm and is $8.
The Observatory
brings
in a mostly solo show tonight, which includes musicians from some of Spokane's favorite bands past and present like
Vaughn Wood of Von the Baptist, Danny Lopez of Table Top Joe and William Alan of The Toy Garden
. Expect some group performances as well. The show is $5 and starts at 9 pm.
SATURDAY
The Chicago group
Whitney
has been together for about a year and already they're blowing up. Some people don't need a lot of time apparently. But they're showing up at the Bartlett this Saturday to play at 8 pm. Cost is $10 at the door. We wrote about the band this week, take a look at that interview
right here
.
SUNDAY
That classic line in
The Blues Brothers
, referring to the type of music a place plays, never ceases to make me laugh: "Oh, we got both kinds, we got country and western." With Sunday's show at the Martin Woldson Theater at the Fox, you'll also get both kinds of music with the cow-punk Floridians
the Mavericks
and Americana legends
Asleep at the Wheel
bringing classic American twang to the stage. The latter group, led by Ray Benson for more than four decades, came through town last summer on a headlining tour; this time around they're opening and their lineup will also include Spokanite and fiddle champion
Dennis Ludiker
on fiddle and mandolin. The show begins at 7:30 pm and starts at $41.
LOOK AHEAD:
To
Hurray For the Riff Raff
,
Omni
and
Dar Williams
next week.