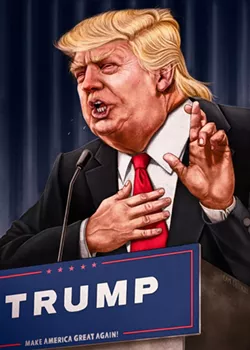 ON INLANDER.COM

Today in Still A Thing
The ALS Ice Bucket challenge is still a thing, as evidenced by Sports Memorabilia Store
Owner Larry Kaplan being doused in Huckleberry Lemonade in Coeur d'Alene
this Saturday
.


HERE

The Whole Tooth

The Cheney CHAS clinic is now offering
dental coverage
to low-income patients. [
Spokesman-Review
]

Home is where your heart is, cardiologically speaking
Being homeless is bad for your health. The Spokane Regional Health District
has researched
just how bad. [
Spokesman-Review
]
The War At Home
Local veterans are upset about a VA program aimed at keeping vets healthy is
being cut
. [KXLY]
THERE

The Loose Cannon Police Department
A Baltimore Department of Justice
report finds
a
police department rife with harassment, strip searches and racial slurs. Also, Season 5 of
The Wire
was
terrible
but Season 2 is underrated. [
Baltimore Sun
]
But other than that, Mrs. Trump, how was the rally?
Wait... did Trump just joke about "Second Amendment people"
assassinating
Hillary Clinton or her judicial picks if she's elected? It sounded like it, but Trump's people wants you to know that the dishonest media is twisting his words by printing them word-for-word in context. [
New York Times
]

Lyin' Don
The
Washington Post
takes us through a deposition where Trump reveals he
lied and lied and lied
. [
Washington Post
]