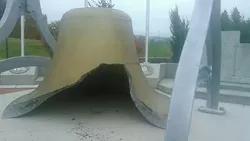 On Inlander.com

Ski Free — or at least reasonably close to free

The Inlander's Snowlander guru walks you through how ski obsessives can get the best deals.
HERE
Valley Guy
Spokane Valley has a new city
manager
. [
Spokesman-Review
]

Brewster's Millions
Developer Rob Brewster, who sputtered out in Spokane
four years ago
, has returned with a
new project
revitalizing an old school. [
Spokesman-Review
]

Bell Basher
Who vandalized the
Veterans Bell
in McEuen Park? [KXLY]
THERE
Like some kind of... Sexmonster!
Newt Gingrich, who has been married three times and doggedly pursued Bill Clinton during his sex scandal, accuses Fox anchor Megyn Kelly of being "obsessed with sex." He also tries to get her to call Bill Clinton a "
sexual predator
." [
Washington Post
]

The Trump Tapes... but not the one you're thinking of
Tapes reveal Trump's deep insecurity about
losing his status
. Like, imagine how humiliating it would be for him to lose the election.
Tears and Laughter
What happens when you're
celebrity comedian Patton Oswalt
— and you suddenly lose the love of your life. [
New York Times
]