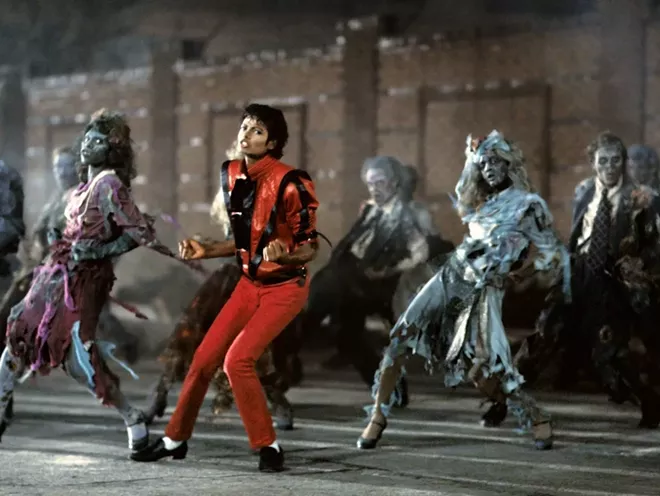 If you're like me, you're throwing together your
Halloween costume
sometime tonight (Minnie Mouse for the 10th time? Who knows?), but for those who've poured countless hours and dollars into their outfits, I salute you. Here are some of the music shows going down this Halloween weekend — because yes, Halloween is an entire weekend — that you are more than encouraged to dress up for. Many of the shows also feature costume contests for those with creativity to actually cash in on.

FRIDAY
Spokane's own community radio station finally becomes a teenager this year. To celebrate, KYRS hosts its own Halloween bash at the Big Dipper Friday night at 7:30 pm. Along with a costume contest and raffle prizes, musical guests include Everett rockers
the Moondoggies,
Seattle rockers
the Hoot Hoots
and Seattle Americana band
Evening Bell
. Cover is $10
The Monumental Halloween Cover Show is back this year at the Pin! with a whole new slew of local rock and hip-hop groups like
Foxtrot Epidemic, Still No Pickles, Raskl, Rot Monger, Morlok VonGrimorog, Heart Of An Awl, CXMagik and Shoelaces
covering acts including Michael Jackson, Logic, A Day to Remember, Nick Jonas and Cage the Elephant. Pretty frightening. The show starts at 6:30 pm and is $7 with costume and $10 without.
This Friday, you'll need to head north to get funked up. That's right, the Palomino brings in Spokane's own funkified act
Soul Proprietor
to help get your groove on. The band's three spooky sets will include a fine mix of funk, soul, blues, Motown, R&B and classic rock (just don't expect any Elton John covers here). The 21+ show starts at 8 pm and is $10 at the door.
SATURDAY
It's been seven years since
Ra Ra Riot
was last in the Lilac City, but Saturday the indie-pop five-piece takes over the Bartlett. As the band
told the
Inlander
in this week's preview story, they plan on playing a lot of their new songs off of February's
Need Your Light:
"The best feeling about [this tour] is that we have a couple songs we close the show with — for the longest time we were closing with old songs, but now we have songs that are so much more powerful and fun for us to play, too. And I think people can really tell." The show starts at 8 pm and is $22. Local favorites Mama Doll open.
Piano players are a dime a dozen, but
Ben Folds
makes the instrument seem not so stodgy. Saturday, the indie singer-songwriter shows up at the Knitting Factory to play all by his lonesome. Expect the hits but also tunes off his most recent album
So There
. The show starts at 8 pm and is $32.50. Read our interview with Folds
right here.

Check out a whole host of other Halloween music listings in our calendar
right here.