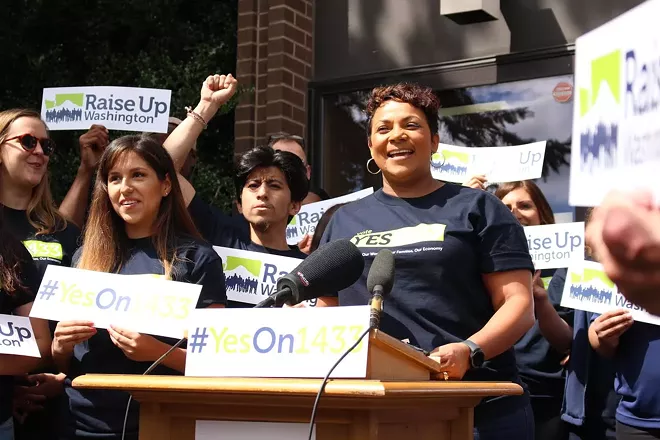 <!——StartFragment——>Initiative 1433: Raising the minimum wage
There was a time that this initiative, which would gradually raise the minimum wage to $13.50 an hour and mandate a generous statewide mandatory sick-leave policy, would have resulted in a titanic battle between progressive activists and business groups. That's what happened in the small city of SeaTac, south of
Seattle,
when it put a $15 minimum-wage hike on the ballot in 2013.
This time, the goliaths on the side of Initiative 1433 showed up to battle — including billionaire Nick Hanauer and a flood of union cash — but the business groups barely made an effort to fight back.
It easily marched to victory, with nearly 60 percent supporting it, according to initial results.
The Washington city driving the initiative the hardest, however, will largely be unaffected.
In 2014, the Seattle City Council passed an ordinance gradually hiking the city's minimum wage to $15
a hour
by 2021. But despite skeptics' warnings of economic calamity, so far, Seattle's economy has continued to boom.
It's one reason that local Republican Sen. Michael Baumgartner, who is very critical of the initiative, acknowledges that minimum-wage opponents have "a little bit of a 'Boy who cries wolf' aspect." The impacts of minimum-wage hikes typically aren't apocalyptic. They're
subtle.
Of course, Seattle, with its high-tech and port-based economy, is a long way from Spokane County's more modest economy, where a quarter of all jobs are currently under the new wage threshold. In Spokane, voters decisively rejected the initiative, with more than 54 percent of voters voting "no."
Seattle also doesn't have to compete with Idaho. If Idaho or the federal government doesn't hike its minimum wage by the time the wage climbs to $13.50, businesses in Liberty Lake will have to pay their minimum-wage workers 85 percent more than those in Post Falls.
It also renders the big fight earlier this year over the city of Spokane's sick-leave policy — with all its hours of debate and consideration given to every exemption and detail — almost academic.
By 2018, when I-1433 goes into effect, a much more generous sick-leave policy will take hold, one that provides no exceptions.

Initiative 732: The carbon tax
It started out as an item on almost every climate wonk's wish list — a shift in the tax burden to penalize big carbon tax emitters. But the fight over the nitty-gritty details quickly turned into a liberal civil war, with detractors on the left arguing that the carbon tax did too little, and cutting other taxes to make the measure "revenue neutral" set the stage for failure. It was the biggest state initiative failure of the night, bringing in less than 42 percent of initial returns.
Initiative 735: Moving to amend the U.S. Constitution

This initiative didn't promise do anything directly to combat the impacts of the Supreme Court's 2010 Citizens United
decision,
or constrain corporate contributions. It didn't, for example, increase transparency rules for independent expenditures. It was intended to send a symbolic message, adding Washington's name to the list of states pushing the U.S. to amend the Constitution. The symbolic measure won real support, with 63.8 percent of voters supporting it.
Initiative 1464: Campaign finance reform

Beyond introducing numerous new restrictions on PACs and lobbyists, this initiative — sponsored by City Council President Ben Stuckart — intended to close a tax loophole in order to hand Washington state residents three $50 "democracy credits" to freely spend on candidates of their choice. But the notion of giving more taxpayer money to politicians didn't persuade most Washington voters: Over 52 percent of voters opposed the measure, while less than 48 percent supported it, according to preliminary vote totals.
Initiative 1491: Keeping guns out of the hands of dangerous people

Despite its occasional flirtation with elements of libertarianism, Washington hasn't been afraid of passing statewide initiatives to restrict firearms, like I-594, which expanded background checks two years ago. This initiative will allow a court to issue temporary bans against owning or purchasing firearms for people considered an "extreme risk" to themselves or others. For voters, it was a no-brainer: 71 percent supported it.
Initiative 1501: Punishing identity theft/restrict anti-union groups

How did an initiative with an innocent name like the "Washington Increased Penalties for Crimes Against Vulnerable Individuals measure" draw opposition from nearly every newspaper editorial board in the state?
Because,
the editorial boards argued, the stuff about
increasing penalties for identity theft was simply a Trojan horse for the real point of the initiative: Restricting the state Public Records Act to prevent anti-union groups from informing in-home caregivers that they don't have to pay union dues. Swarmed by other initiatives, voters didn't hesitate to approve the measure, voting for it in the biggest landslide of the night, with nearly 72 percent in favor. <!——EndFragment——>