A while back, we
Inlander
staffers started a blog series called "What We've Been..." in which we thoughtfully suggested and raved about our current obsessions, whether that be a great new book, album or beer we couldn't stop thinking about. For this newly revived series, we'll do our darnedest to introduce readers to a wide range of modern culture elements that you may or may not have heard about. Consider it our random review of all things cool, and a complementary feature to our weekly "
For Your Consideration
" series in the Arts and Culture section.
Find past installments of "What We've Been..." here.

OVER THE GARDEN WALL

This gif
recently spotted on a friend's Facebook page first sent me on the quest to discover
Over the Garden Wall
, a charming storybook-style
miniseries from Cartoon Network
, released back in fall 2014. With just 10 11-minute episodes, in one sitting you can enjoy this very worthwhile dark fantasy about two brothers — Wirt (voiced by Elijah Wood) and Greg — lost in a fairytale-esque land and trying to find their way home. With their silly costumes and quirky personalities, the brothers encounter a host of unusual characters along the way, including the talking bird Beatrice and a foreboding Woodsman (voiced by Christopher Lloyd) who warns them of the ominous "beast." (Note: While
OTGW
is indeed kid-friendly, there are some terrifying creatures that are likely to scare the littlest fans.)
Over the Garden Wall
creator
Patrick McHale
(a former writer/director for
Adventure Time
) was directly influenced by Americana art, folklore and 19th century children's storybooks when creating the show's beautiful, enchanting art style. Viewers with a careful eye will notice many direct and loose references to traditional fairytales in the scenes and story; some may also sense hints of the delightful and emotional reveal in the final episode. If you missed this lovely series during its original or subsequent airings, find all 10 episodes
on Hulu
.
— CHEY SCOTT
SON OF ZORN

I've been watching
Son of Zorn, a Fox sitcom
about an animated heavy metal-style animated barbarian (voiced by Jason Sudeikis) who moves to our live-action world with hopes of rekindling a relationship with his human son. Think
Who Framed Roger Rabbit
with (more) beheadings. It's a B+ sort of sitcom, with moments of inspired hilarity. The weaknesses — the live-action actors don't seem to be in the same room as Zorn because, well, they're not — are outweighed by the hilarious moments of '80s barbarian excess. The funniest gags, unsurprisingly, come at Zorn's office job, where he wears a white shirt and tie and a loincloth and fills up his goblet with coffee.
Give
Zorn
one more crank of lunacy — the sort that
Rick and Morty
's Dan Harmon provides — and the decent show could be great.
— DANIEL WALTERS
INSECURE
I don't know about anyone else, but I'm tired of watching television that focuses its attention on the narratives of white people. It's boring, and dangerous, for Hollywood to only show one side of our culture. And if you've watched Chimamanda Ngozi Adichie's TED Talk on "
the danger of a single story
," (which you should), you know how important it is to step outside your comfort zone and to attempt to understand the viewpoints of people unlike yourself.
That's one of the reasons I've been enjoying
HBO's Insecure
so much: the change in narrative. Issa Rae, the show's co-creator, has said
Insecure
is "just trying to convey that people of color are relatable." I don't know who is surprised that people of different races have things in common, but maybe if you're confused about it this show would be good for you. I relate intensely to Issa Rae's character, especially as she talks to herself in the mirror, doubting and scrutinizing every facet of her life — those are just things that come with life in your twenties.
Other reasons to watch this show: if you miss Larry Wilmore (he's the other co-creator), if you love Solange Knowles and Raphael Saadiq (who both worked on music for the show), and/or if you find a show whose episode titles each end in "as f**k" appealing, like I do. Frank and funny and honest,
Insecure
is fully worth the binge.
SEARCH PARTY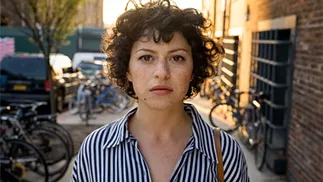 Can a show even exist anymore if it isn't "binge-able"? I'd like to think so, but I can't complain when networks tweak their typical scheduling style to appeal to all the viewers they've lost to streaming services.
So it is with
Search Party
, TBS's excellent comedy/drama (sort of) about a young woman's search for a college classmate gone missing in New York. The network released all 10 episodes over the course of one week in late November, and star Alia Shawkat (you might remember her from
Arrested Development
) is a revelation as Dory, the wayward young adult searching for some meaning for her own life by tracking down someone she barely knew, the delightfully named Chantal Witherbottom. Joining Dory's pursuit with varying levels of shrugging interest are her boyfriend, gay bff and vacuous actress/friend; together they explore the nooks and crannies of NYC and Millennial life while hitting a sweet balance between occasional laugh-out-loud slapstick and well-earned suspense. I'm only halfway through, but can't wait to see where
Search Party
goes.
RICK AND MORTY
For about a decade now, I've been stubbornly wearing the "I Refuse To Watch Cartoons" badge. It's a lonely life. Friends will reference jokes from their favorite animated TV show hoping I'll understanding and share the laughter, and I'll simply turn away and mumble something about how I've never been a fan of cartoons (except
South Park
). So it took me a couple of years before people successfully pressured me into watching
Rick and Morty.
But I've now nearly finished both seasons within the last two weeks, and I'm finally understanding what I've been missing out on.
Staff writer Daniel Walters (see: above) wrote a much more
thoughtful analysis
of
Rick and Morty
two years ago in the "What We've Been ... watching" series than what you'll see here. But for me, it's been interesting to make my way through the first two seasons while simultaneously watching the first season of
Westworld. Westworld
asks, "How could robots become conscious?" and takes itself very seriously. In contrast,
Rick and Morty
will ask, "What would happen if we transferred Rick's consciousness into a teenage version of his self?" and we get to watch it play out in an absurd, hilarious way. Overall, my favorite episodes are the two featuring Interdimensional Cable TV, with characters like the electronic salesman named Ants In My Eyes Johnson.
— WILSON CRISCIONE