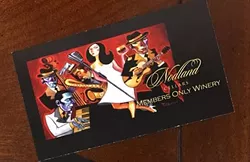 Bigger isn't always better.
That's one of the lessons winemaker Tim Nodland learned as he watched his award-winning Nodland Cellars wines grow from a garage hobby to a commercial entity to a full-blown
tasting room in downtown Spokane
, complete with food and live tunes.
After a couple years of work to get his tasting room open in February 2016, Nodland poured his last glass at his downtown spot at the end of January after deciding that the production demands of the popular spot were simply too much if he wanted to keep the quality of his wines at the award-winning level.
"Wine was always an art for me," Nodland says, "and it seemed like it was getting too far away from that."
Nodland takes pride in the hand-crafted nature of his wines; he picks the grapes, puts the labels on the bottles, basically does every step of the process himself. The demands of managing a restaurant and booking music for the tasting room — in addition to working his "day job" as an attorney — made him feel like the artistry of winemaking was being lost. If anything, the tasting room proved too popular for him to sustain a wine-production level that he felt comfortable with, and "it's easier to make quality wine in small batches," he says.
Nodland Cellars won't be disappearing, but it
is
becoming a members-only winery. That means no more tasting room, and no more finding Nodland bottles in area stores. Nodland will focus on making 150-to-200 cases of wine each year, available only to members, and that's it.
You can sign up as a member for free
until the spaces fill up, and membership certainly has its privileges. Namely, dibs on getting the first chance to buy some of Nodland's wines as they're released throughout the year.
Nodland is back to making wines in the Spokane Valley space where he first started making larger batches after leaving his garage in 2005, and now he gets to focus on the grapes and the amazing Washington soil and weather that makes what he believes is some of the best wine country on the planet. What he doesn't have to think about is ordering more food supplies or hiring new staff.
"I have the freedom to be more of the artists of the wines," Nodland says of post-tasting room life.
It's all about the wine, as he always wanted it to be.