Audiences at Wednesday's
National Geographic
Live! event took a trip around the world's oceans without having to leave the icy streets of Spokane. For the third installment of the
series' third season
at the INB Performing Arts Center, award-winning underwater photographer
Brian Skerry
mesmerized with his tales of encountering sharks, whales, seals and other denizens of the world's vast ocean landscapes from behind his camera lens.
For those who missed it,
Skerry has been photographing underwater landscapes
and its inhabitants for three decades; his work has been widely published in
National Geographic
, and most recently for the cover story of
this February's issue
on the centennial anniversary of the U.S. National Parks Service.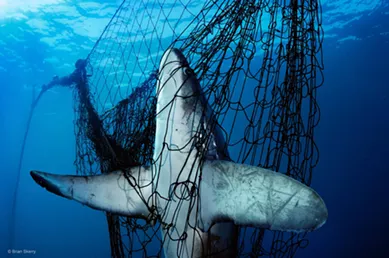 Beyond regaling us with tales of how a great white shark ripped apart his camera equipment, and coming face-to-face with a
Southern Right whale
that had never before encountered humans, Skerry emphasized an important message: ocean conservation works, and we need to protect at least 30 percent of the world's oceans if we want them to survive and thrive for future generations. (Right now, he says, about 3 percent of the ocean is protected from commercial operations like fishing and oil drilling.)
After starting the program by sharing photos of adorable
baby harp seals
,
massive sharks
and other water species, Skerry's talk moved to the serious side, with a story he photographed to shed light on the
devastating effects of worldwide commercialized fishing
. We can't treat the wildlife of
the oceans as an unlimited resource, he says, and later encouraged audiences to be more conscious about the types of seafood products they're consuming. Knowing what you're eating and where it comes from should give us pause, he said, adding that while he does consume seafood, he is selective as to what species.
At the close of his presentation, Skerry reminded us that even if we're not marine scientists or photographers, we can help protect the ocean and its magnificent creatures by voting with our wallets, and encouraging lawmakers to enact more protections of these precious environments.
To see more of Skerry's stunning work, visit
his website
, and follow him on
Instagram
.
The
2016-17 season of Nat Geo Live!
hosts two more presenters in Spokane this spring. Go learn about a part of the world you've never been to when mountaineer Hilaree O'Neill shares her experiences on March 15, and when wildlife photographer Charlie Hamilton James presents "I Bought a Rainforest" on April 26. Tickets for each are $29.50; students get a special rate of $19.50.