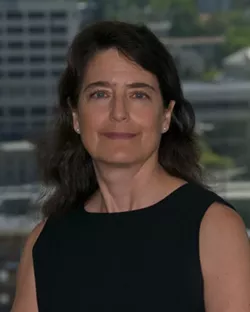 The fallout over the
forced resignation
of former police Chief Frank Straub — way back in September of 2015 — has
already cost
the city of Spokane more than they ever paid Straub as police chief.
Even though the public has moved on from the controversy, the legal case is still looming.
And as the City of Spokane refuses to give even the city council an explanation for why it booted Mark Serbousek from his role as street director, the ongoing legal case may provide some insight into why the city has been so tight-lipped.
Sure, in June, a U.S. District Court judge dismissed Straub's due process lawsuit in summary judgment — a major blow to Straub's case. But Straub quickly appealed to the Ninth Circuit. And the Ninth Circuit took the case.
For months, Straub's attorney Mary Schultz, and attorneys for the city, Mayor David Condon, City Administrator Theresa Sanders and former City Attorney Nancy Isserlis have been filing briefs in the appeal.
Schultz says she's pretty confident that it will be remanded back to the district trial court.
"This has a very important message to it, that is really going to need the Ninth Circuit to rule on it," Schultz says. "It's the Fourteenth Amendment right to due process."
The lynchpin of Schultz's arguments come down to Condon's decision to distribute two letters from members of police leadership, accusing Straub of "unreasonable emotional outbursts, personal attacks, threats regarding ... employment and position, scare tactics, retaliation, degradation of character, demeaning and condescending treatment" and "profane and highly inappropriate language."
Schultz argues that constitutional due process rights require Straub to have been notified of the specifics behind these charges and to have been given a chance to respond before being fired.
"The city can terminate these folks at will," Schultz says. "What they can't do is they can't stigmatize that person, they can't send out a bunch of untested, uninvestigated [accusations]."

But the attorney representing the city, Michael McMahon, counters that the key premise of this argument — that Straub was fired — is incorrect on its face. After all, Straub remained employed with the city attorney's office for three more months. (Schultz argues that his new job — which did not have a title — was mostly bogus. Straub was told to stay off city property, Schultz says, and wasn't even given any work until the media started demanding to know why they were paying him.)

"He was not terminated, nor were his rights significantly altered under Washington state law," McMahon writes in a court brief. "To the contrary, Mr. Straub remained employed by the City throughout the term of his at-will employment contract after he voluntarily resigned from the position of Police Chief... Continuous employment in a different position is not the significant alteration of employment status necessary to invoke a name-clearing hearing."

Indeed, the U.S. District Court, pointing to a resignation letter signed by Straub himself, rejected the idea that Straub had been fired.

Ah, but that was an incorrect reading of the facts, Schultz counters. It's all about timing. Schultz says Straub was told he would no longer be the city's police chief on the morning of Sept. 21, 2015. He was replaced the next day at the press conference on Sept. 22. He only signed his "resignation" letter — dated Sept. 23 — on Oct. 6, 2015.
"No one testified that Straub resigned his position as police chief, and there is no evidence that would support such a finding," Schultz writes in her brief. She says the District Court judge shouldn't have unilaterally made the decision, that it was a resignation instead of a termination.
"The judge went with what the public was told instead of what actually happened," Schultz says. "If you are told, 'you can resign now, or you'll be terminated,' that's a termination ... He was DONE on Sept. 21. The only question was what the public would be told."
McMahon, meanwhile, also points out that Straub had repeatedly declined to take advantage of a post-resignation name-clearing hearing, and argues that the city had no obligation to offer a chance to respond before disseminating the letters. While Schultz's brief references the Fourteenth Amendment, McMahon references the First.
"The government has a further interest in not restraining freedom of speech regarding matters of public concern," McMahon writes. "As an elected official, Mayor Condon has a First Amendment right to freedom of speech in making statements concerning business conducted on behalf of the public. "
He paints a grim scenario where the city refuses to explain its personnel decisions at all.
"The City has a strong interest in avoiding additional costs and explaining to the public an employment decision concerning an at-will employee," McMahon writes. "If a pre-publication name-clearing hearing were required, the City would have a powerful incentive to forgo any explanation of its employment decisions, '
at a cost to the public as well
.' "
That's precisely what's been happening this month in Spokane, as the city refuses to explain why it removed Serbousek as its street director, but it kept him working at the city as an engineer.
City spokesman Brian Coddington refuses to say whether the Straub case has influenced the city's decision to keep quiet on Serbousek, but says that the police chief and the street department director aren't comparable roles.
"The street department sits lower in the organization," Coddington says.
Schultz, for her part, takes some credit for the city's reticence to discuss its employment decisions.
"It's already controlling how the city is starting to act," Schultz says. "It's a good lesson learned. And
it's
not over yet."
She argues that it's actually quite easy for the city to legally discuss its reasoning to fire or demote an employee. First, the limitation only applies to serious "stigmatizing" charges, like dishonesty.
"If someone is discharged because they didn't manage a project right, that's okay, [the city] can talk about it," Schultz says.
And if they
are
going to fire somebody because of a "stigmatizing" charge, there's a way to do it right. "[Straub] was entitled to know exactly what it was he did wrong and [be given the chance to] offer some response," Schultz says. "That should have gone out with the letters."
The Straub lawsuit could stretch months longer, even if the Ninth Circuit ultimately rejects Straub's appeal. Schultz's next reply to the court is due on March 17. In the meantime, asked if she'd been contacted by anyone with the street department, Schultz plays coy.
"If I had been, I couldn't tell you," she says.