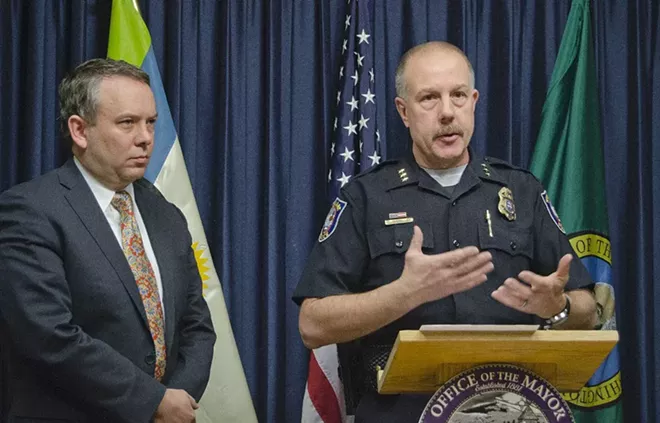 The chance of the city of Spokane shelling out $4 million to pay a former police chief accused of sexual harassment just got a lot smaller.
The horde of attorneys — representing the city of Spokane, Mayor David Condon, City Attorney Nancy Isserlis and City Administrator Theresa Sanders — won a major victory in court this morning in their defense against former police Chief Frank Straub.
Federal Chief Judge Thomas Rice ruled that Straub's due process rights were not violated when the city severed ties with its former police chief last September. In doing so, Rice dismissed Straub's lawsuit against the city, Condon, Sanders and Isserlis.
Rice cited a signed letter of resignation from Straub as the basis for his dismissal, finding that because he voluntarily resigned, there was no constitutional violation.
In order to prove a constitutional due process violation, Straub had to prove three things, says Michael McMahon, who represented the city. First, that something bad was said about him. Second, that bad statement had to be false, and third he had to be fired.
Straub's attorney, Mary Schultz, said although she respects the judge's decision, she disagrees. She argued that Straub was not given a choice but to sign the resignation letter.
"The problem with the ruling today is that [the judge] made a finding of what happened, and that's ultimately the jury's role," Schultz said after the ruling. "So it doesn't end here."
The resignation letter was signed on Oct. 6, 2015, two weeks after his resignation had been announced. Straub added a note stipulating that the letter "does not waive prior claims per letters and communications of my counsel."
One basis for Straub's claim were letters from police command staff to the City Attorney's office accusing Straub of "emotional
outbursts," "
personal
attacks," "
threats regarding
employment," "
retaliation" and "degradation of character," among other things. Those letters, which are labeled as
attorney-client
privileged communications, were handed out to reporters last September when Straub's ouster was first announced.
After the hearing, Schultz called the release of those letters "hypocritical" considering the city's refusal to release certain attorney-client privileged information to Kris Cappel, a former federal prosecutor who is investigating whether the city handled the disputed resignation appropriately.
"Here they are refusing to participate in an investigation with their own investigators on the basis of attorney-client privilege, yet the whole genesis of this claim is them sending out attorney-client privilege letters to the public," Schultz said.
She added she plans to appeal the case to the Ninth Circuit.
You can read Straub's resignation letter below: