Have a heart for kids who struggle
More than 700 people turned out for the Sacred Heart Children's Hospital's annual Kids at Heart luncheon this week. This year's event raised money for improving access to psychiatric services for the region's kids. Christian Rocholl, the keynote speaker and Providence Sacred Heart Medical Center emergency room pediatric physician, described situations in which kids can endure long waits—one ER census entry showed a child who had been in the ER more than a 100 hours — for an in-patient bed in the psychiatric unit to become available. Rocholl noted the ER is not a particularly conducive environment for those struggling with their mental health: There are no windows, so days and nights get mixed up and kids have to be in their rooms at all times, requiring an escort to go to the bathroom or take a shower.
Read more about the crisis
in providing mental health services to young people.
If you missed the luncheon,
you can still donate
.
Dreaming of Daffodils?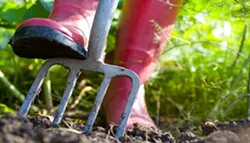 It may be too early to work in the dirt, but you can plan a visit to the
2017 Master Gardener Foundation Cabin Fever Gardening Symposium
next week. Among the classes offered are instruction on identifying the spring mushrooms in your yard and learning which ones you can eat, creating and using compost tea to help plants thrive, discovering the secrets of permaculture, and learning how to create a sensory garden to nourish your spirit. Conference participants get to choose four classes, enjoy a continental breakfast and boxed lunch, and maybe even win a door prize. It happens March 11 at CenterPlace Regional Event Center, 7:30 am to 4 pm, $75.
Dogs win!
A
new study assessing dogs' "social cognition"
found our canine companions behave similarly to toddlers. In fact, in these tests, dogs were more like young humans than were chimpanzees, humans' closest relatives in the animal kingdom. Researchers "looked at how 2-year-olds, dogs and chimpanzees performed on comparable batteries of tests designed to measure various types of cognition. While chimps performed well on tests involving their physical environment and spatial reasoning, they did not do as well when it came to tests of cooperative communication skills, such as the ability to follow a pointing finger or human gaze."
The work is aimed at understanding how humans evolved socially. "There are different kinds of intelligence, and the kind of intelligence that we think is very important to humans is social in nature, and that's the kind of intelligence that dogs have to an incredible extent," says one researcher.