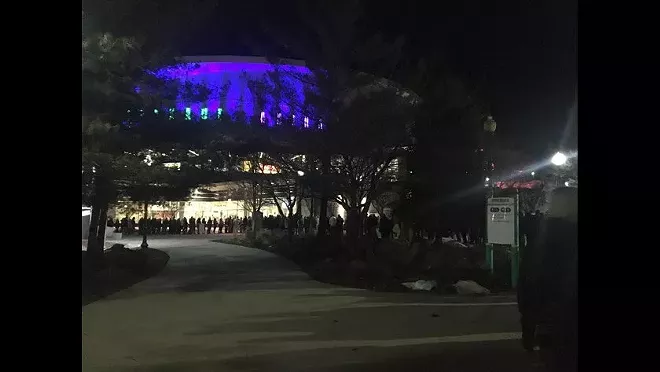 If you were among the 11,200 people who attended Sunday's Elton John show at the Arena (here's
our review
) and you arrived anytime after the doors opened at 7 pm, the odds are good that you waited in a seemingly never-ending line.
At the time I queued up at 7:15 pm on Sunday night, there were two visible lines for ticket holders: one leading into the Arena's southeast entry, which was spilling out onto Howard St., and another that started on the sidewalk and snaked up to the Arena's main entrance by the box office.
I was in line for an hour (and eventually jumped into another line that, thankfully, moved way faster) before finally reaching the Arena's metal detectors, a relatively new security system that, understandably, slows down the getting-into-the-building process a bit. A lot of concertgoers missed Sir Elton's opening songs, and some
took to Facebook and Twitter
to complain about the wait.
Matt Gibson, the general manager of the Spokane Arena, says he has heard from several concerned concertgoers, some angrier than others, since the Elton John concert. The Arena
increased its security measures
in October of last year, and the metal detectors were in place for two major 2016 shows — Carrie Underwood in September and Florida Georgia Line in November. Neither event, Gibson says, saw as much confusion as Sunday night.
"Up until now we've not had issues with people getting in more than ahead of time," Gibson tells the
Inlander
. "The fact that we had lines going all over the place surprises me a little. I know it's not been perfect, but it's never been to the point where we can't get everyone in. It's concerning to me, and my staff and I have talked about trying to figure everything out."
The Arena has two big shows coming up next week — Journey and Asia perform there on Thu, March 16, and country star Eric Church plays the next night — and Gibson says there will be more Arena employees on hand to control crowds and direct attendees where they need to go.
"Clearly we've got to police it better at the main doors up top, because that's where 90 percent of the people come in," he says. "The last thing we want is to irritate the heck out of people before they get into the building. We are taking it very seriously."