ON INLANDER.COM
SPORTS:
The Zags made the
cover of Sports Illustrated!
NEWS:
Maybe you already heard about the
piece that ran in the Guardian on Tuesday
insinuating that Spokane is a broken town with nothing more to look forward to than a Gonzaga basketball win. But the bigger problem with the story was that it just got a lot of facts wrong.
The Inlander spelled out some of the errors.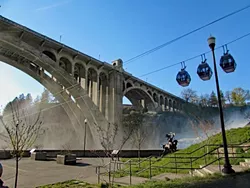 IN OTHER NEWS
"Life here is hell, and you know it"
Okay, okay, so if you're still obsessing over the
Guardian
's take on Spokane, you might also want to read this
comedic riff on it by Shawn Vestal
. (
Spokesman-Review
)
"Lives like a king, but wants to pay taxes like a Walmart Cashier"
David Cay Johnston was first to obtain two pages of President Donald Trump's 2005 tax returns, and explains that had it not been for something called the Alternative Minimum Tax, which Trump wants to eliminate,
Trump would've only paid $5.3 million
on his income that year, instead of $36.6 million. (
DCReport.org
)
Make room for the revelers
Butte, Montana, police were
making room in their jail in anticipation of a rowdy St. Patrick's Day
, since it falls on a Friday for the first time in more than a decade. (
Montana Standard
)
A laughing matter
Women in labor can now opt to
use laughing gas (nitrous oxide) for pain relief
instead of an epidural at Deaconess Hospital. (
KXLY
)