ON INLANDER.COM

NEWS:
How the
Spokane County Democrats
came crashing down.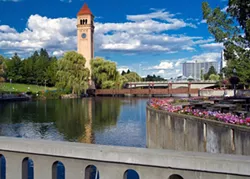 MUSIC:
Supervillain, the local rock trio, not comic-book characters, are
celebrating the release
of their new album. It's probably not what you were expecting.
PICKUP ARTIST
: I followed a local
pickup artist
on a recent date.
IN OTHER NEWS:

Down by the river
The city of Spokane considers selling off a piece of Riverfront Park in order to build a rock-climbing gym along the shore of the Spokane River. (
Spokesman-Review
)
"Imperial Wizard"
A "celebrity" Klansman from Mississippi showed up at a Donald Trump rally in Portland last month. (
Willamette Week)


United we fall
The man who was yanked from his seat aboard a United flight and dragged down the aisle has a concussion, a broken nose and is missing teeth, his lawyers say. (
Associated Press
) ICYMI, watch the
video here
.
New York judge found dead

Police pulled the body of Sheila Abdus-Salaam from the Hudson River on Wednesday. Abdus-Salaam, a judge on the state's highest court, was the first African American woman to serve on that bench. (
New York Times
)