Perhaps you're like me and it's taken a week or so for it to really sink in that the little Jesuit school in little ol' (but
still not desolate and crumbling
) Spokane, Washington, played in
the
NCAA championship game. Further putting the school and city on the map — and hopefully to rest how to pronounce either name — Gonzaga achieved something monumental in being one of the final two of 68 out of 351.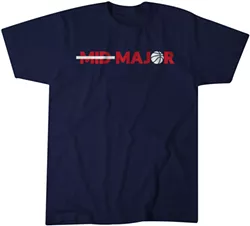 In recognition of this historical moment, online T-shirt design company Breaking T is selling
two Gonzaga-oriented shirts
: one literally putting the city and school on a map, and the other reclassifying the Zags' label from "Mid-Major" to "Major." Breaking T is producing these shirts along with SB Nation's Gonzaga-focused blog
The Slipper Still Fits
as a fun way to cap off a historic season.
The shirts retail for $24 each, and are offered in unisex size "vintage heather" navy-blue tees.