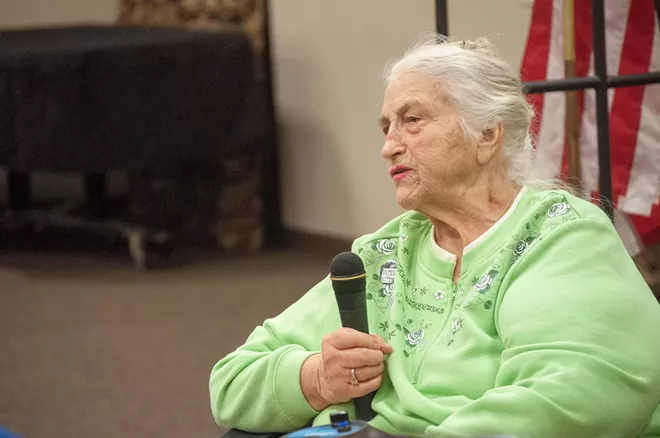 When Dan Lambert arrived at Lincoln Center for the Spokane County Democrats' viewing party of the second presidential debate, it wasn't just to watch Hillary Clinton duke it out with Donald Trump.
Lambert, a Spokane County Democratic party activist for 28 years, came armed with a copy of Spokane County Democrats' board minutes from 2009, and the copy of a dead party member's will. He wanted to show the minutes to Jim CastroLang
— then both the chair and the executive director of the Spokane County Democrats. Lambert says that CastroLang looked shocked by what he saw.
"He turned a couple shades lighter [in] color," Lambert says. "This was all new information. He did not know about this."
This week, we have a story about the resignation of CastroLang after a Public Disclosure Commission complaint
revealed the local Democratic party's error-strewn,
heavily delayed reporting to the PDC. Internally, longtime party members' frustration regarding their leadership was about more than just mistakes with campaign finance PDC filings.
It was about CastroLang's decision to take money specifically set aside for scholarships (and nothing else) and use it to pay operating costs.
T
he issue starts with a woman named Betty Drumheller,
who was an icon of the Spokane County Democratic Party. She'd been the wife of a state senator in the 7th district, ran U.S. Sen. Warren G. Magnuson's Spokane office, and served as a Democratic National Committeewoman. She was also a firm advocate for "
death with dignity
" laws. With her death
in 2000
, she set aside a sizable sum for the Spokane County Democrats.
"Drumheller gave that in her will: $83,000 to the Democratic Party. She didn't put any stipulations on it," says Sally Jackson, an 85-year-old former Spokane County Democrats chairwoman. "[But] those of us close to Betty knew she was so devoted to the education of young people on Democratic principles."
Jackson pushed to set aside that money, and use at least some of it for college scholarships for promising young Democrats.
By 2009, the fund from the Drumheller account had been winnowed down to $36,000.
The minutes — the ones that Lambert says he showed to CastroLang at the debate party — showed that Jackson was concerned.
"I worry that sometimes as we get short of money, that the Drumheller scholarship money will be used for purposes other than the scholarship fund," Jackson said back then, according to the January 2009 minutes.
She came up with a proposal: Take $14,000 from that account and put it in a lockbox. Bar the party from ever using those funds for anything other than scholarships. Any interest accrued by the funds' certificates of deposit would go back into the fund.
Every single person at the Central Committee meeting voted yes.
"This is part of her legacy, and something she wants to ensure goes forward," one party member said in support. "Let's affirm [that] for years to come."
B
ut in late 2015,
the party was low on cash. So the party, with CastroLang serving as both chair and executive director, dipped into the Drumheller scholarship account twice, taking a total of $7,000 from the scholarship fund and using it to bolster operating expenses.
"We had some cash flow issues that were going to be solved by January," CastroLang says. "So I borrowed from the scholarship fund, because it was the bigger one, and told the executive board that I did that."
He says he hadn't known about the limitations put on the fund.
"Nobody on the executive board knew that, [or] none of them remembered it," CastroLang says.
Lambert says that the board has borrowed money from the account before, in order to pay for events like the dinner or a salmon feed. But in previous years, they always had a plan to pay it back. That hasn't happened this time.
"They were wrong to borrow the money in the first place. They were wrong to borrow the money, to not have any plan to pay it back," Lambert says. "This was an absolute betrayal... We're as mad as hell about it."
Lambert doesn't just blame CastroLang. He blames the board, who he says should have known better.
"There were people the last two years who were on the executive board, that sat on their hands," Lambert says. "They let down the constituency. They let down the organization."
Lambert called Jackson.
"I have no idea how they piddled away
the rest of the Drumheller money," Jackson says. "[Lambert] called me and told me: 'Sally, do you realize that half of the Drumheller [scholarship] money is gone?' ... They promised me they would never touch that."
Jackson says that Lambert enlisted her in his mission to raise hell about the state of the Democrats' finances.
"He told me that there were a lot of problems with the books: 'Sally, I need you, you're the one with guts to face anybody down,'" Jackson recalls Lambert telling her. "'I'm going to hold their feet to the fire.'"
CastroLang says he had a lengthy sit-down meeting with Lambert, and moved to rectify the situation: He brought a proposal before the executive board: Take $1,000 from the Drumheller party-building account and transfer it to the scholarship account, and then spend $500 a month paying back the account — with interest — until it's filled. Jackson says they had better follow through.
"My scholarship [account], I damned better well get refilled," Jackson says. "That's for kids."
The entire episode highlights a problem that CastroLang himself tried to fix. With turnover on the executive board, the decisions made by one board may be forgotten by a new board a couple of years later. There's no script supervisor ensuring that the Democrats maintain continuity.
To prevent this sort of thing from happening in the future, Lambert says he and Jackson want the Democrats to put the Drumheller scholarship money into an irrevocable trust, so the interest could only be touched, but never the principal.
"Take it out of their hands," Lambert says. "Take the temptation away from them."
C
ompared to problems with the Spokane County Democrats' PDC filings,
this may seem like a minor issue.
But for Lambert and Jackson, this is a big deal that comes on top of other frustrations. Lambert calls himself a moderate Democrat, and he's frustrated by how he feels the party has lurched in the direction of Bernie Sanders and other progressives.
Jackson was opposed to spending money on an executive director at all.
"$2,000 a month was a lot of money for that," Jackson says. "It was money that wasn't going to elect candidates. You pay your expenses and you try to elect candidates."
It's not clear whether the party would have had cash flow problems that required taking as much from the Drumheller account had they not been paying their executive director.
As for Lambert? He's seen this all before. He points to another set of minutes from 2009, where the board officially recommitted to transparency and adherence to the law, after having taken a year and a half to reconcile their bank statements with the information in their internal financial software
.
He's still irritated that at that same meeting, the Democrats' vice-chair was celebrating a 2008 election-night bash that put the party in the red.
"Fantastic election night event," the minutes read. "Put us in the hole financially, but it was amazing."
Lambert wants the party to spend less on election-night celebrations and more on achieving election-night wins worth celebrating.
As for Jackson, she says that in her day, when she was chair, the books were immaculately kept. The PDC rules were studied closely and followed to the letter.
"They audited us one time, back when I was chair," Jackson says. "Everything was perfect."
And now, she says, the old-timers she talks to feel the same way as she does. What the hell was the party leadership thinking?
"What the hell were they thinking with their treasurer?" Jackson says. "What the hell were they thinking when they weren't accountable with their money?"
After the
Inlander
story was published this week, current party chair Andrew Biviano sent out a statement to his fellow Democrats, promising that the party would do a better job in the future.
Dear Democrats,

Many of you have likely seen the article in today's Inlander about the Spokane County Democratic Party's efforts to fix past mistakes in PDC filings. I write to reassure you that the party is taking these issues seriously and making things right.

While we would all have preferred that the events hadn't happened, I hope this article provides some closure and allows us to move on. We are learning from this process, fixing errors, improving processes, and getting back to helping our communities by getting good Democrats elected.

I'm proud to be a part of this party and hope you are too. It is a privilege to be part of the struggle during this momentous time, on which our nation's future may hinge. I want us to be able to put our full hearts and minds into caring about and standing up for people who need us, and fighting back against those who seek to take even more from those who have the least. We are incredibly lucky to have you as part of the team and welcome all the help you can provide, in whatever way works for you.

Please thank and support all those who picked up the laboring oar in making sure we have our PDC responsibilities covered, so we can stay focused on our primary mission. And please let this experience make us stronger, by reminding us of how many people rely on us.

Yours truly, in solidarity,

Andrew