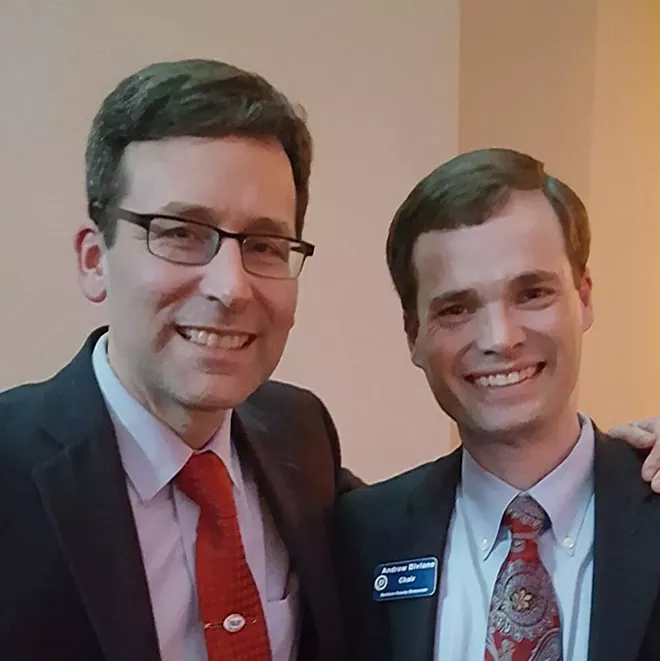 Last month, the
Inlander
published an
investigation
into the financial chaos that has plagued the Spokane County Democrats since 2016. It detailed how the county Democrats' former treasurer, Justin Galloway, stopped filing Public Disclosure Commission reports in early 2016. Then, after Galloway resigned, Jim CastroLang, former county Democratic chair and executive director, scrambled to complete the backlog of required reports, but in doing so made a series of serious errors.
In March, conservative activist Glen Morgan filed a complaint with the PDC and the Washington state Attorney's General's Office.
Now the AG's office has filed a lawsuit against Galloway, CastroLang and the Spokane County Democratic Central Committee alleging that the financial reporting problems go far beyond just 2016. The lawsuit suggests that the financial reporting problems have lasted since at least 2014, and still haven't been fixed.
The AG's office plans to argue that at least some of the actions "were negligent and/or intentional."
Attorney General Bob Ferguson, a Democrat who spoke at the party's Foley Legacy fundraising dinner in March and is currently featured in current Spokane County Democratic Chair Andrew Biviano's Facebook profile picture, has recused himself from the investigation.
Instead, it was handled by Senior Assistant Attorney General Linda Dalton and Assistant Attorney General Walter Smith, and concluded that county Democrats had "failed to timely file at least $110,554 in expenditures and $104,190 in contributions."
The lawsuit accuses county Democrats of failing to properly identify Galloway's successor when he resigned from his post, and notes that they "accepted an over-limit contribution [by $2,000] from Spokane Firefighters Union PAC."
While Morgan's complaint focused on 2016, the AG's lawsuit also charges that "defendants also failed to timely file contribution reports for 2014 and 2015."
For many months during the past five years, Defendant [Justin] Galloway did not file a single report, despite the Committee's reportable activity of receiving contributions and making expenditures throughout the same time period.
(Galloway had also been the treasurer for Ben Stuckart's Spokane city council president campaigns in 2011 and 2015, but the lawsuit makes no allegations concerning Stuckart's campaigns.)
Morgan says that he was aware that there were likely other issues with prior years when filing the complaint.
"One of the reasons I didn't include those problems with the complaint is there's a statute of limitation complaints for a Citizen's Action complaint," he says. "I really only went back into barely 2015. There was so much that was really a problem."
Biviano says the party will work to fix old problems as well.
"I wouldn't call it a surprise," Biviano says. "I assume if you look into any organization's filings with a fine-tooth comb, I assume you'd find some problems."
The lawsuit charges that, as of this date, the party
still
isn't in full financial compliance.
From July 2015 to present, Defendants CastroLang and the Committee did not accurately identify the Committee's officers on the committee registration form.
Biviano says that the party has addressed those concerns. But the lawsuit also charges that a $3,000 donation from the Spokane Tribe "has never been reported and is currently 456 days late as of this filing," and also says that "some contributions and expenditures have yet to appear on any reports, and are now more than 500 days late."
Furthermore, the AG's office argues, county Democrats still haven't reported "four salary payments to CastroLang totaling $3,663, which are currently about 500 days late."
Morgan suggests this shows the extent of the problems that still remain in the organization.
"A little bit of this appears to be the lack of seriousness with some of the officers, that there was no recognition this was a serious problem," Morgan says. "I would think you would get really serious about fixing the filings."
Biviano's actions highlight extensive efforts that county Democrats have taken to respond to this issue. They formed an audit committee and a financial oversight committee, and spent hundreds of hours working with forensic accounting in an attempt to explain what went wrong to the attorney general.
Still, Biviano says there are still errors in filings that county Democrats are finding and correcting. Part of the problem? The software makes it much more difficult to edit old filings than to produce new ones.
"The mistakes that were made are much harder to go back and correct after the fact than it would have been to do right in the first place," Biviano says. "There's over a year worth of things that need to be amended."
Lately, he says, county Democrats have been correcting the errors the old-fashioned way, with handwritten amendments submitted to the PDC.
He notes how challenging it is for a volunteer treasurer to get up to speed on PDC law. While the PDC offers training courses, sometimes a slot doesn't open up for three to four months. And when they do they're held in Olympia — there's nothing in Eastern Washington.
"I can vouch that our treasurer is working hard. She's filing things regularly. If she's making mistakes, she's humbly trying to learn from things and fix it," Biviano says. "[But] this isn't something that should be done by volunteers."
Today, the AG also filed a lawsuit against the King County Democrats that had been triggered by another Morgan complaint, but for a smaller amount than the suit against Spokane County Democrats.
"There's nothing compared
with
the Spokane County Democrats that I've been able to find with the state," Morgan says. "The Spokane County Democrats are the worst."
Read the whole complaint below:
AG complaint against the Spokane County Democrats, Justin Galloway, and Jim CastroLang by DanielWalters on Scribd