The Seattle Seahawks' run from 2013-15 was built on the wealth of talent they secured through late-round drafting. Russell Wilson, Kam Chancellor and Richard Sherman were top-tier players the Seahawks landed in the third and fifth rounds.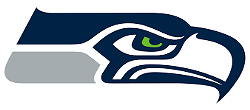 During their run to back-to-back Super Bowls, they benefited from All-Pro talent signed to rookie contracts, which gave them the opportunity to secure free-agent talents like Cliff Avril and Michael Bennett.
After two playoff seasons with divisional-round losses, the Hawks need to restructure their roster with young talent and retool before there is a need for a massive overhaul.
Just watching one game from the 2016 season reveals that a draft priority is trying to fix the offensive line. Last year was the first time that Wilson suffered major injuries. A pectoral injury, ankle and knee sprain could easily be ascribed to running for his life when his blocking broke down routinely.
But the Hawks' loss of depth and potential trades via in-house drama could result in plenty of other high-priority positions to be filled in the draft. Sherman is unhappy with his relationship with the franchise, and GM John Schneider was actively taking phone calls from other teams about him for weeks. Backup QB Trevone Boykin was arrested in Dallas last month for misdemeanor possession of marijuana and public intoxication. He was subsequently arrested for breaking his probation from an incident in 2015, his senior year at TCU. Here are some priorities for the Seahawks throughout Thursday and the weekend.
Offensive line
We could talk ad nauseam about the failures of the group plotted out by the front office and O-line coach Tom Cable. Their sixth-round pick at center didn't work out, so they turned Justin Britt, drafted as a right tackle in 2014, into a center, after turning him into a left guard the previous season. That worked out, with Britt earning Pro Bowl alternate honors, while the rest of the line was treated like a turnstile by opposing rushers. Second-year player Germain Ifedi is potentially moving to right tackle after being one of the worst guards in the NFL during his rookie campaign, which was bookended by ankle injuries.
The only problem with this desperate need? The lack of an answer in the draft. Alabama's
Cam Robinson
and Western Kentucky's
Forrest Lamp
seem to be the only first-round talents at both tackle and guard, and both are expected to be gone before Seattle's first-round pick, 26th overall. Robinson will be a project for whatever team lands him, thanks to off-field issues. Utah offensive tackle
Garett Bolles
, a late-first-round talent and potential target, also might fall just out of reach for Seattle. Worse, a precipitous drop-off means that fifth-round talents are ranked in the top 10 at both positions. This makes for a tough job for Schneider and Co., who have no picks in the fourth and fifth rounds as of Wednesday. The Hawks will have to acquire some picks to shore up this position.
Cornerback
Schneider told reporters Monday that the front office has moved away from shopping Sherman around the league, saying that it would have to be a crazy offer to renew his interest in trading Sherman. That aside, DeShawn Shead's major knee injury leaves question marks across from Sherman, with Jeremy Lane mostly playing in the nickel last season, and the rest of the depth chart isn't inspiring.
Washington cornerback
Kevin King
is the hot pick floated by fans, but the Hawks would have to use their first-round pick to land him. That would be unprecedented for this team, which has crushed coal into diamonds with late-round DB picks like Sherman, Shead, Lane and Byron Maxwell. This year's draft features a rich cornerback crop, with plenty of high-grade, late-round options. Mid-round talent
Ahkello Witherspoon
from Colorado and even later-round options like Oregon State's
Treston Decoud
could fill in nicely if Shead's rehabilitation takes longer than anticipated.
Quarterback
It's been reported that the Hawks had Cal's
Davis Webb
visit during the scouting process, which is puzzling, as they'd need to use one of their earlier picks to grab him. Boykin's issues may not require too much disciplinary action from the league, but these kinds of off-fielfd concerns just can't occur with your backup quarterback... especially when you only have two QBs on your roster. Couple that with the known dangers of the protection offered by a lackluster offensive line, and quarterback depth becomes a real concern for the Hawks. Unlike last year, they might need to go outside of the draft and pick up a veteran backup.
Webb could be a prospect you stash who pays dividends when he matures, as Jimmy Garoppolo seems to be for the Patriots. He'd pretty much be the last of the incoming quarterbacks who could conceivably be replacement-level if something happened to Wilson.
Other needs


Depth is always a concern for every roster, and after another year of Kam Chancellor injuries and now, with Earl Thomas coming back from a broken tibia, the Legion of Boom seems fragile to say the least. Expect the front office to go after defensive backs like Connecticut's
Obi Melifonwu
. The Hawks have routinely prioritized workout scores and measurements over pedigree and college performance, and Melifonwu fits that bill, measuring in at 6-foot-3, with a 4.4 time in the 40. His elite quickness and tackling prowess could make a great addition to the defensive backfield. The Hawks will also no doubt look to add depth to their receiving corps, with Paul Richardson and Tyler Lockett both susceptible to injuries and a lackluster year from Jermaine Kearse as the second option. If the Seahawks release Kearse prior to training camp, they recoup $2 million of his gaudy contract. They will likely also look to add to their pass rush with the defensive line options available when they're on the clock with their three third-round picks.