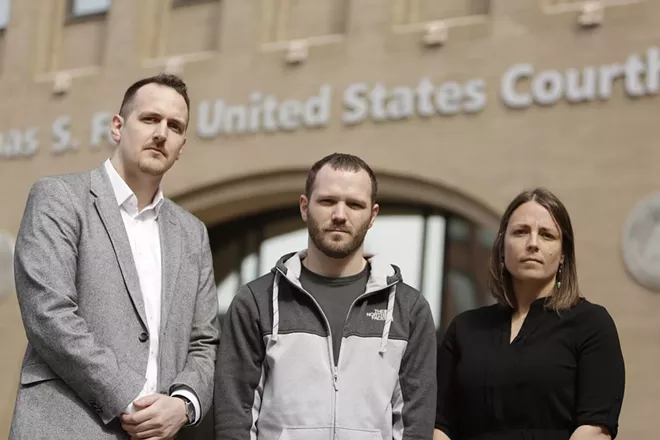 Accusations that federal prosecutors withheld evidence in the case that could send one man to prison for life for a marijuana grow operation are not true, according to recently filed court documents.
Last month, defense attorneys for Jerad Kynaston of Spokane Valley and four co-defendants suggested that United States attorneys
neglected to hand over "freetalk" reports
in the 5-year-old case, and that those reports could show that the men were operating within the state's medical marijuana laws.
But in court documents filed last week, Assistant U.S. Attorney Russell Smoot writes that the reports do not contain new information. He fires back at defense attorneys, saying their claims "relied on a vague, speculative proffer invoking discovery and aspersions of '
Brady'
violations."
"Indeed, the defendants have not, because they cannot, demonstrate that the United States has failed to meet its
Brady
obligations," Smoot writes, referring to the U.S. Supreme Court case
Brady v. Maryland
, which requires the government to turn over all evidence that could point to a person's innocence.
Federal defender Alison Guernsey says she disagrees with the U.S. attorney's recent statements in court documents, but declined to elaborate before the defense team's June 28 deadline to file a response with the court.
The reports in question document "freetalk" interviews in 2012 with at least four defendants. Federal prosecutors say information contained in those reports is duplicative of other reports handed over in 2012. Generally, a "freetalk" is an opportunity for suspects or defendants to give law enforcement information without incriminating themselves, or in exchange for a potentially lighter sentence.
In this case, Assistant. U.S. Attorney Patrick Cashman has described the freetalks in court as conversations between at least four defendants, the police and at least one federal prosecutor.
The defense team has now received the freetalk reports, attorneys confirm, but they've been filed under seal and are not publicly available.
This case has languished in the system since 2012, when seven men were originally indicted for violations of the Controlled Substances Act. At least one has already pleaded guilty, and the others are facing mandatory decades-long sentences, due to the amount of weed that police say they found. Kynaston — who has two prior marijuana-related felony convictions —and another defendant are facing life terms. Kynaston is also facing a firearms charge.
Specifically, Guernsey has said that the reports in question "include statements that associate the firearm in this case with someone other than Mr. Kynaston. These reports also talk about the marijuana grow and the medical nature of that grow."
Whether or not the men operated a medical grow is significant because of what's known as the
Rohrabacher-Farr amendment
— a spending appropriations bill that's been in place since 2014 and bars the federal government from spending money on medical marijuana prosecutions in states where it's legal. Medical marijuana has been legal in Washington state since 1998.
As long as the men complied with Washington's medical marijuana laws, a recent
9th Circuit Court of Appeals decision
says, they're safe. How to determine whether they complied is still a matter of debate. Federal prosecutors say they have proof that the men were violating state law. Defense attorneys say that's a question for a state jury to decide.
But now, that back-and-forth could be a moot point.
U.S. Attorney General Jeff Sessions is
asking congressional leaders
to eliminate that element of the spending bill. He argues that the amendment "restrict[s] the discretion of the Department [of Justice] to fund particular prosecution, particularly in the midst of an historic drug epidemic and potentially long-term uptick in violent crime."
It's true that the U.S. has seen an
alarming increase
in opiate-related deaths and overdoses. But Sessions' reliance on a "historic drug epidemic" to justify his request seems to contradict a growing body of research on drug abuse in the U.S. As
cited in the Washington Post
and recognized by the
National Institute on Drug Abuse
, states with medical marijuana laws have actually seen opiate-related deaths decrease.