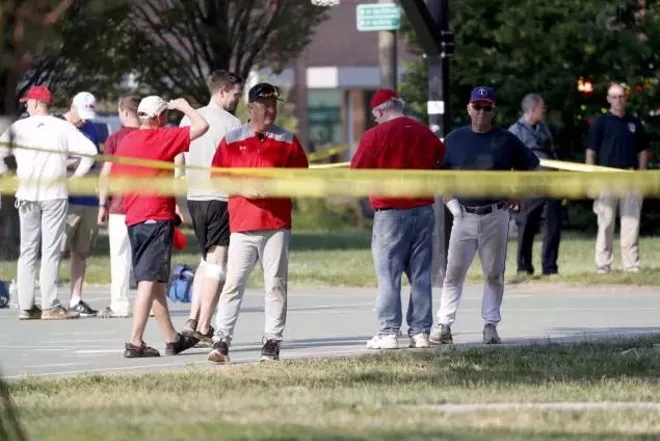 ON INLANDER.COM
NEWS:
U.S. attorneys
fire back at claims
that they withheld crucial evidence in a Spokane Valley marijuana grow op case; the stakes are high, as one man could go to prison for life.
NEWS:
A group opposed to a "road diet" on Monroe Street has paid for a
new billboard targeting two Spokane city councilmembers
up for reelection in November. Just one problem: Neither Breean Beggs nor Candace Mumm ever voted for the lane reduction.

IN OTHER NEWS

Gunman targets GOP lawmakers in Virginia
House Majority Whip Steve Scalise of Louisiana was one of at least five people injured early this morning in Arlington, Virginia,
as a gunman opened fire on a group of GOP congressmen and staffers
practicing for a baseball game. The gunman, who was shot by Capitol Police and has died in a D.C.-area hospital, was identified as 66-year-old James Hodgkinson of Belleville, Illinois. (
Washington Post
)
Crunch time in Olympia
Washington Governor Jay Inslee, vowing to "kickstart" stalled negotiations,
has ordered the state legislature to come up with a two-year budget plan by the end of the month
; if they can't, a government shutdown looms on July 1. (KUOW)
New era for CdA Ironman
This August's Ironman triathlon in Coeur d'Alene
will be the last as a full 140.6-mile race
, ending a 14-year run. A smaller half-Ironman will continue to be conducted in CdA. (
Spokesman-Review
)
Mariners draft Zags' Mill
s
Gonzaga's Wyatt Mills, a right-handed pitcher who played his high school ball at G-Prep,
was selected by the Seattle Mariners
with the 93rd overall pick in the third round of major league baseball's draft. (
Spokesman-Review)
Will the Warriors pass?
The Golden State Warriors, NBA champions for the second time in three years, say that
talk of refusing a trip to Donald Trump's White House is premature
, although at least one Warrior
has made it clear where he stands on the subject
. (
Los Angeles Times
, CBS Sports)